ASUA senator up for Miss Arizona title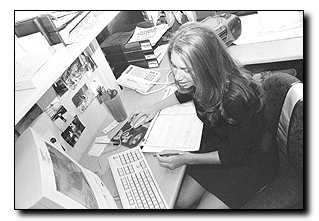 Randy Metcalf
Arizona Daily Wildcat
Lauren Hickey, an ASUA senator, is one of 18 contestants in this year's Miss Arizona USA 2000 Pageant. The pageant is Saturday night in Phoenix at North Canyon High School.
By Ty Young
Arizona Daily Wildcat,
October 13, 1999
Saturday night, at the North Canyon High School auditorium in Phoenix, Lauren Hickey, an ASUA senator, could be crowned Miss Arizona USA 2000.
Representing Tucson, she and 17 other women from across the state will try to win over a panel of judges while competing in various activities.
Among other events, Hickey will participate in evening gown and swimsuit competitions, as well as impromptu questioning from the judges.
Hickey will also be representing her charity, Big Brothers Big Sisters. She said she hopes her efforts will help the non-profit organization.
"My primary reason for running is to be able to push my charity," said Hickey, a University of Arizona molecular and cellular biology and biochemistry junior.
"Big Brothers Big Sisters is an absolutely wonderful foundation, and it is well-known in the community, but it is not well-known about how to get it involved with it."
Hickey said as Miss Tucson USA 2000 - a title she won in May - she has tried to raise awareness about the organization.
"Right now there are approximately 100 boys and girls (in Tucson) on the list waiting to get big brothers and big sisters," she said. "There's just not the outreach for the community right now."
"So my job, as I look at it, being Miss Tucson USA 2000, is to go out into the community and get them involved."
The upcoming pageant is not the only activity on Hickey's agenda.
She also stays busy with her school and work schedules, coupled with her volunteer work and ASUA responsibilities.
"Yeah, it keeps me very busy. But, I want to see other people get involved," she said.
Last semester, Hickey started her first term as an ASUA senator and has helped initiate a new program - Campus Pals - for UA students.
"It's a national program, and they're trying to get it across nationally to college campuses. It was something I picked up, half being that it was part of my charity, and half because it was a (ASUA) Senate project," she said.
The Campus Pals program, which is part of Big Brothers Big Sisters, has been positively recognized by others ASUA officials.
"I am especially fond of her Campus Pals program," said Benjamin Graff, ASUA's executive vice president. "She has taken a good initiative in incorporating the university student athletes with the students in efforts to help underprivileged children in the area."
Hickey is also a Pop Warner cheerleader coach. The girls she works with appeared in the halftime show of the UA-Stanford game on Sept. 18.
Besides working part time at the University Medical Center as a lab assistant, Hickey will soon be interning in the office of Arizona Gov. Jane Hull.
Graff said Hickey has proven to be a good role model for the other senators.
"I would definitely like to say that she is a hard worker. One of the responsibilities of the (ASUA) senators is to do what they said they would do," he said. "I think she has definitely done this."
ASUA President Cisco Aguilar also acknowledged Hickey's hard work while working as a senator.
"I've been really impressed with her work. She's a hard worker," he said. "I admire her for that."