Megadeth kicks off North American tour in Tucson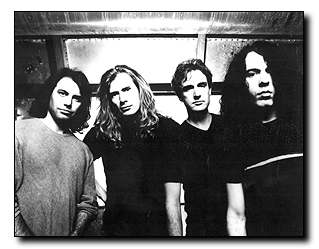 Arizona Daily Wildcat
Photo Courtesy of Capitol Records Phoenix-based band Megadeth performs this Friday at the Tucson Convention Center. Members from left to right are: Jimmy DeGrasso, Dave Mustaine, David Ellefson and Marty Friedman.
By Ty Young
Arizona Daily Wildcat,
October 13, 1999
Fresh off their European tour spent opening for geriatric rock gods Iron Maiden, Megadeth brings their ever changing heavy metal sounds to the Tucson Convention Center Friday night.
The band, whose latest album Risk recently hit music stores nationwide, is kicking off their North American tour in Tucson.
Megadeth first hit the music scene in 1983 when lead singer Dave Mustaine and bassist David Ellefson started the band. Previously, Mustaine was a pioneering member of the band Metallica.
Both Mustaine and Ellefson, along with guitarist Marty Friedman, live in Phoenix and have frequently played shows in Tucson.
"I don't know much about Tucson, or the music scene," Ellefson said. "I do know that you have to drink a lot of water." Ellefson said that after their last stay in Tucson, a woman in their hotel died from heat exhaustion.
According to Ellefson, the band is very close and has enjoyed their past tour. Friedman has been playing with Megadeth since 1990 and drummer Jimmy DeGrasso was added last year for Risk and the corresponding tour.
"We are a family," Ellefson said. "We always have fun while we're out (on tour)."
Megadeth has produced nine albums since 1983. Through the years, there has been an noticeable movement away from the speed-metal style which defined their early work.
"We certainly developed our style as a band," Ellefson said. "We've gotten better in terms of song writing, confidence and music ability."
Ellefson said that there is a definite pop music tone in most of the songs on Risk.
"The melody and the way we structure the songs have a pop feel," he said. "I think we are a band that can appeal to a multitude of tastes."
Despite this, he said that Megadeth is not sculpting their style to fit the current music trends. Rather, he said, Megadeth is merely displaying their changing musical persona.
"Trying to make music according to the public's taste is like trying to shoot a moving target," Ellefson said. "More often than not, you'll probably miss."
Ellefson said the band has made significant changes in their personal lifestyles as well. In the past, the band was known for their extravagant party attitude while on tour. Now, Ellefson said, the band is healthy, both physically and mentally.
"Being in rock and roll, or any music genre for that matter, can have its way with you," he said. "Some people go to the point where they don't come back. We're a band that has endured the test of time, and has worked through the lifestyle."
"Crush 'em," the first song released from the new album, has received a lot of time on radio stations. The song's video has also been played on MTV and VH1.
"There's a lot of radio play," Ellefson said. "The strange thing is VH1 is really endearing themselves to us. There's a different audience out there now."