Corndog lovers score startup ASUA funding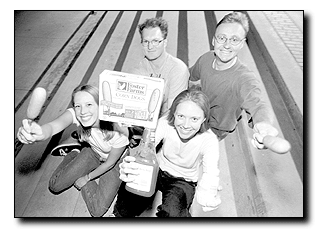 Joshua D. Trujillo
Arizona Daily Wildcat
UA Corndog Appreciation Society members (clockwise from top) Morris Bird, John Collin S. Holman, Suzanne Switzer and Malea Hainstock offer corndogs to UA students. The members, who prefer to be known as "corndoggers," will hand out free corndogs on the UA Mall next Tuesday from noon to 1 p.m.
By Ty Young
Arizona Daily Wildcat,
October 14, 1999
Among the hundreds of UA clubs and organizations, one group of 20 students stands united for one noble cause - corndogs.
Associated Students of the University of Arizona senators last night approved funding of $100 to the Corndog Appreciation Society, after the Appropriations Board granted the money on Monday.
The board denied the club's $238.78 request for T-shirts, but the $100 appropriation was granted for an event honoring "Corndog Appreciation Day," which the club created. Money will be spent on surveys, a banner and free corndogs that group members will hand out.
The club's mission statement is "to further the consumption, proliferation, awareness, and general enjoyment of the corndog and its prominent place in our hearts and culture."
"Everywhere today we hear pizza this, hamburger that, yo quiero taco something or other," said John Holman, a founding member of the Corndog Appreciation Society. "We wanted to give corndogs the appropriate recognition they deserve."
For the past month, club members have been planning ways to educate UA students about the need for corndogs.
"A few friends and I were sitting together in front of the student union and we discovered that we all shared the same love for corndogs," said club president Morris Bird. "When we asked others around us, we noticed that nobody else had this in common with us. We felt we should start a society to appreciate this."
Their first event will occur Tuesday on the UA Mall, when club members will ask students to give input concerning how corndogs relate to their lives.
The reward for filling out the survey - a free corndog.
"We thought it would be important to get the awareness out on campus about corndogs," said Malae Hainstock, an education graduate student.
So the club decided to host a celebration of their treasured snack food.
"Basically, every corndog needs its day," Holman said. "Next Tuesday is that day."
In addition, Holman said the club is working to help students understand the proper way to eat corndogs.
"One of our goals is to teach people how to eat corndogs responsibly," he said. "You can't just go and eat 15 in one sitting without getting sick."
An ASUA senator last night defended their decision to financially support the club.
"I know it sounds unbelievable, but they are a recognized club on campus," said ASUA Sen. Ryan Roa, an Appropriations Board member. "We want to treat them fairly."
Hainstock said that the club is also attempting to gain sponsorships and donations from local businesses.
"We have received donations from grocery stores in the area," she said. "One gave us 100 corndogs, and others donated ketchup, mustard and paper plates."
The club is also lobbying Foster Farms for recognition of their cause.
The Corndog Appreciation Society meets every Wednesday night at 5:30 to discuss an array of issues.
"Our meetings are informal. In the last meeting we discussed our upcoming event," Bird said. "We also wanted to learn the democratic method connected with the having a club on campus."
Holman said the club caters to all people who wish to learn more about corndog appreciation - even vegetarians.
"There is a member in our club who is our token herbivore," Holman said. "She handles the vegetarian issues."
While all the members share the same love for corndogs, each has a different preference of taste.
"I like them soft - with mustard," Hainstock said. "Oven baked are the best - if you have the time."
Bird disagreed.
"When the outside is crispy, that's when it's perfect," he said "Also, if smoke comes out when you bite into it, that's when it's at its best."
Holman had his own feelings on the matter.
"If a person is a true corndogger it really shouldn't matter," he said. "I had a cold corndog last week."
The club also promotes the convenience provided from corndog consumption.
"Time is an important issue. Microwave corndogs are best for students with very little time," Bird said.
He also said that lives of corndogs can be prolonged.
"In the freezer, they can stay good for a long time," he said. "The shelf-life is a lot less than a twinkie though."
Some UA students shared the club's desire for corndogs.
"I love corndogs personally," said Jeff Dohanyos, an undeclared freshman.
Others had opinions about improvements to the corndog.
"There's not enough meat on them," said Rigel Woida, an optical science freshman. "They need to plump when you cook them like Ballparks.