pop goes the profit profit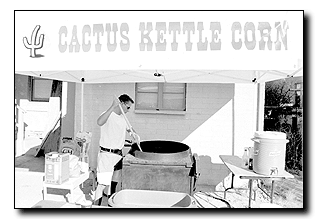 Arizona Daily Wildcat
AARON FARNSWORTH/Arizona Daily Wildcat Business management junior, Mike Ladenburg, stirs kernels in a quickly heating kettle at his house yesterday. Mike and his partner, Arno Bergstrom, run a kettle corn business out of their home.
Move over Orville Redenbacher - a different kind of corn has come to town. Kettle Corn, a popular snack at festivals nationwide, has made its debut at the University of Arizona thanks to the entrepreneurial efforts of Mike Ladenburg, 21, and Arno Bergstrom, 20, both UA juniors.
The two students, roommates and best friends since childhood, decided to initiate sales of the sweet popcorn two weeks ago. The business is modeled after that of Bergstrom's father who has been running his own Kettle Corn stand in Washington for close to nine months.
Ladenburg and Bergstrom decided to sell Kettle Corn at local festivals and farmers' markets as a way to earn some extra cash and begin to pay off their student loans.
The process of making Kettle Corn is not a difficult one. The procedure includes pouring vegetable oil into a huge kettle-like pot over a hot burner, adding uncooked popcorn and dumping in a load of sugar while "stirring like crazy," Bergstrom said. A big wooden stick is used to mix and coat the popcorn so that the kernels glaze evenly as they pop.
All of this may sound deliciously easy, but the entrepreneurs were required to undergo a multitude of tests and health checks before the business was granted permission to operate. The Tucson Health Department required an inspection of the actual Kettle Corn booth and the homes of both students before certifying the business. Since the business is so new, the majority of equipment is stored in a mobile unit that doubles as the Kettle Corn stand. The rest of the ingredients and supplies are being stored at their house.
While both maintain an avid interest in business, only Ladenburg is a business major at the UA. At one time Bergstrom studied business, but he is now focused on physical therapy.
Although business has been slow to start, Ladenburg and Bergstrom estimated a total profit of close to $350 at last Sunday's Sun Farmers' Market. That's about 50 pounds of Kettle Corn sold in one day.
When the partners take their business to this weekend's Downtown Saturday Night, they are expecting to double that amount with their booth on Congress Street.
"Sure we'd do this as a weekend thing but it's not a career," Bergstrom said of the business's future.
Both agreed they'd like to run a business together in the future, perhaps marketing something involving "extreme sports," since both are rock climbing, mountain biking and parachuting enthusiasts.
To get a taste of the sweet Kettle Corn (and to catch a glimpse of the guys in action), go to the Kettle Corn booth on Sundays at the Sun Farmers' Market on Campbell Avenue, or go to Downtown Saturday Night on the first and third Saturday evening of each month. Small bags of popcorn run at $2 each while large bags are $4.
Also keep an eye open for the duo at the Fourth Avenue Street Fair in early December. Applications and bids for fair spots begin in just a few short weeks.