The Heart & Soul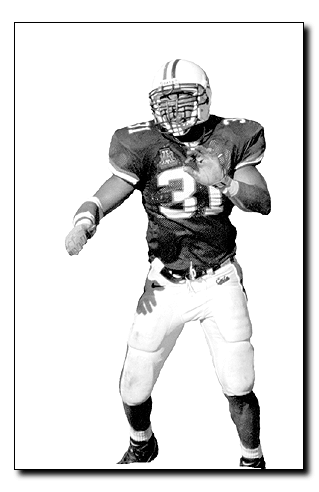 Wildcat File Photo
Arizona Daily Wildcat
ive games into the season, the Arizona defense was staggering along.
But deep down a fire was still burning inside and that fire exploded against USC last week as Arizona hammered the Trojans' rushing attack, which finished with -20 yards.
A big part of that resurgence was the play of senior linebackers Marcus Bell (9 tackles, 1 interception) and DaShon Polk (5 tackles, 2 sacks).
In retrospect though, both players are still dissatisfied.
"It kind of hurts to make you think we could have been playing like this," Polk said. "(But) at the same time, I guess it came at a good time because we do have a lot of games left to play. But there are always things you can improve on. We still know we can improve on things from that game. We saw on film a lot of stuff that wasn't perfect."
That is the nature of the beast with the two linebackers who are seemingly as different as people can be.
"Bell isn't going to be the most vocal person," junior linebacker Antonio Pierce said. "But he goes out there and does everything by example. He goes full speed in practice, and then does the same thing in the game.
"Polk, he's the emotional leader, he's very vocal. He plays with emotion all the time, he's going to tell you what's on his mind."
But both of them have a commonality in that they are two of the fiercest competitors on the field.
Bell said his only goal this season is a simple one.
"I just want to win," he said. "I just want to have a winning season and get out of this thing as good as we can."
Polk echoed Bell's feelings.
"I want to end this like last year, on top," Polk said. "I just want to win. Whatever it takes. Even if someone comes here and takes my position, I just want to be part of this team."
Because of the leadership they have shown on the field and off, their fellow players voted Bell and Polk defensive co-captains for the remainder of the season.
"Anytime your teammates nominate you as anything, it's just a great honor," Bell said. "Because that's who you play with, that's who you work with. If they have that much respect for you, that just feels great that they think of you as one of the leaders."
Polk and Bell came to Arizona from different backgrounds. Bell is a native of tiny St. Johns, Ariz., in the northeast corner of the state. He also competed in wrestling and track, but once his senior year rolled around, despite his numbers, he was relatively ignored by major college programs.
"First off, I didn't have many choices, either here or Utah State or NAU," Bell said.
It was more than the lack of choices though, that attracted Bell to UA.
"The defensive tradition. The players that have been through here and they play hard and play as a team," he said.
Polk, who comes to UA from Pacoima, Calif., was ranked as the No. 5 linebacker in the West coming out of high school and also visited USC and Illinois. But in the end, it was Arizona's "Desert Swarm" that lured him to Tucson as well.
"I knew from the time I came here I loved the defense, I loved how they played," he said. "I wanted to leave the state of California and it was close and it was my best choice I could have ever made."
Polk said most of the UA seniors have bonded over the years, especially those who came in back in 1995. He and Bell are no exceptions to that.
"We've been so tight, we've been closer than a booger to a nose," Polk said with a laugh. "From day one we've been in the same study time group, same classes, same meeting rooms. For me and him at Cochise, back in '96, Coach (Larry) MacDuff had us on the board. We didn't know nothing. I'm trying to look at Bell's board to cheat off him, and he was trying to look at my board. We were like 'I can't cheat off him.' We were both stuck."
Bell said they have both come a long way in their five years at Arizona.
"First you're at the bottom of the hill and everybody's up there, and you never know if you're going to get a chance," he said. "When we got that opportunity, we took it."