Opportunities Abound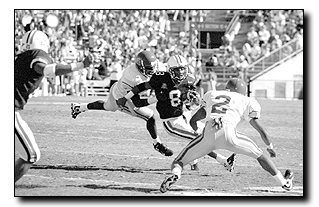 Arizona Daily Wildcat
AARON FARNSWORTH/Arizona Daily Wildcat UA senior wide receiver and defensive back Dennis Northcutt tries to juke out USC's freshman cornerback Darrell Rideaux, while UA's freshman wide receiver Bobby Wade looks to block during last Saturday's 31-24 UA victory at Arizona Stadium. Northcutt and the Wildcats take to the field again tomorrow night against UTEP in hopes of improving their record to 5-2 and stretching their win-streak to three games.
When the Arizona players saw the University of Texas El-Paso (3-3 overall, 1-1 in Western Athletic Conference) on their schedule during the off-season, they might have looked at the game as an opportunity to pad the stats between conference opponents USC and Washington.
On the contrary, though, the game Saturday night that kicks off at 7:08 is not being taken lightly by the Wildcats(4-2 overall, 2-1 in Pacific 10 Conference) as they look to build upon their two-game winning streak.
"UTEP is not a gimme game," senior quarterback Keith Smith said. "They beat a good New Mexico team, they are averaging a lot of points on offense and we have to be ready to play."
Smith's reluctance to brush off the Miners is not unwarranted. The Miners feature a solid running attack, led by 5-foot-11, 235-pound tailback Paul Smith, who is averaging 116 rushing yards-per-game. UTEP also employs a two-quarterback system with receiving options including tight end Brian Natkin, who was fourth in receptions nationally last year, and Lee Mays, who leads the Miners in both receptions and receiving yards.
"They have a variety of offensive schemes and going into the game we don't totally have an idea of what they are going to do," UA senior free safety Rafell Jones said. "We'll just have to make adjustments."
The UA defense took a giant step in resurrecting themselves last week, holding the USC Trojans to -20 rushing yards, while ravaging USC quarterback Mike Van Raaphorst for nine sacks. In addition, the intensity level of the defense was at a boiling point against the Trojans and UA linebackers Antonio Pierce and Marcus Bell look for that intensity to continue and augment through the rest of the season.
"We want to come in here and do what we did against USC," Pierce said. "We want to come out and have fun, and we showed what we can do last week when we had fun."
The match-up in the trenches between the UA offensive line and the Miner defensive line is key because UTEP boasts a front seven that is solid and anchored by an All-American candidate at defensive end, Brian Young
The UA offensive line is coming off arguably their best game of the season as they paved the way against USC, allowing senior running back Trung Canidate to rack up 194 yards on 31 carries.
"Our offensive line should be excited, and I think they can stop a good defensive line with pro prospects," Smith said.
The Miner secondary is known to be suspect, and UA wide receiver Dennis Northcutt is averaging 125 receiving yards per game. That doesn't bode well for UTEP cornerbacks Nick Salinas and Crance Clemons, who will try to matchup with Northcutt both in man-to-man and double coverage schemes.