Penn State defense hopes to shut down explosive UA attack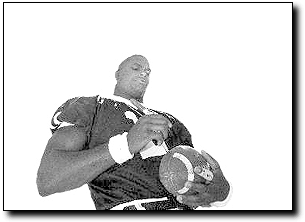 Wildcat File Photo
Arizona Daily Wildcat
LaVar Arrington, Nittany Lions' junior outside linebacker
Predicting a winner out of the Penn State-Arizona game based on a statistical analysis is nearly as problematic as solving calculus problems while inebriated.
Penn State returns nine defensive starters from last year's team that gave up only 15.4 points per game and didn't allow a single opposing running back to gain 100 yards. UA's offense averaged a conference leading 213.4 yards per game on the ground and put up almost 35 points per game last season.
The Nittany Lions' defense is stocked with potential NFL draft choices in junior outside linebacker LaVar Arrington, senior middle linebacker Brandon Short, senior defensive end Courtney Brown and senior cornerback David Macklin.
Short, who was Penn State's leading tackler last year, was an All-Big Ten Conference player and a Butkus Award semifinalist this season. He returns for his fifth season to lead what many experts call the best linebacking crew in the nation.
NFL scouts watch Penn State game tape with mouths agape at the 6-foot-3, 233-pound outside linebacker named Arrington. He was an All-American last season and graces the cover of the Sports Illustrated in their college football preview issue. But remember Ohio State was ranked No. 1 by the magazine a year ago with linebacker Andy Katzenmoyer on the cover.
UA senior running back Trung Canidate and the UA offense recognize the problems Arrington and Penn State's defense pose and realize that his position on the field must be taken into account.
"From a team perspective, we want to know where a player like that (Arrington) is on the field because he's going to wreak havoc," Canidate said.
Macklin blanketed opposing receivers last year at the cornerback position and finished tied for the Big Ten lead in interceptions with six picks. He will most likely match up with UA senior receiver Dennis Northcutt.
"I think he's (Northcutt) a good receiver and they get him the ball a lot," Macklin said. "I feel like if we get out there and take some receivers out of the game we can eliminate a lot of their offense."
The defensive line is anchored by 6-foot-5, 270-pound Courtney Brown who had 11 and one-half sacks last season and chalked up 23 tackles for minus 113 yards. Brown has a wingspan like a pterodactyl (86 inches) and can get those mammoth arms up to deflect passes to the flats.
As for the offense, last season the Nittany Lions didn't score well versus some of the top teams in the nation, as they combined for 12 points in losses against Ohio State, Michigan and Wisconsin.
To add to their offensive woes, Penn State passed for a mere 169 yards per game a year ago.
However, Joe Paterno teams have won many a game sticking to the run-first, pass-later philosophy.
Senior quarterback Kevin Thompson passed for more interceptions (eight) than touchdowns last year (six), while completing just above 50 percent of his passes. During Thompson's slump last year, Paterno was criticized for not playing current junior Rashard Casey. Paterno, though, insists that Thompson is his starting quarterback going into Saturday's game.
UA defensive backs coach Duane Akina is not ignoring Penn State's aerial attack despite Penn State's passing problems last season.
"They run and run, and then they play action pass and they've got a group of talented receivers that can make big plays," Akina said. "We'll be ready to play the run and the pass."
Penn State's passing attack is not only suspect at the quarterback position, but at the wide receiver spot as well. This year's receiving corps of seniors Chafie Fields and Corey Jones caught a combined three touchdown receptions last year. Although the UA secondary is without All-American Chris McAlister, it has the experience to handle the Nittany Lions receivers with senior cornerbacks Kelvin Hunter and Leland Gayles, and senior safeties Rafell Jones and Greg Payne.
Thompson should be well-protected by an experienced offensive line that features 6-foot-7, 320-pound junior left tackle Kareem McKenzie and ultra-durable senior right guard Eric Cole.
The Nittany Lions bring a decent running game into the season with sophomore Eric McCoo, who rushed for 822 yards last season, the most for a freshman at the school since D.J. Dozier rushed for 1,002 yards in 1983.
The running attack is the heart and soul of the Penn State offense and they depend on it to set up the occasional play-action pass. UA senior free safety Rafell Jones realizes the importance of staying at home to protect against the pass.
"Penn State is a hard run team, but we just have to be a disciplined secondary and stay on our responsibilities," Jones said. "We have to guard against them trying to stick a deep one by us play-action style."
Penn State brings a suffocating defense and a lackluster offense to play, but if they are able to force turnovers and get a defensive touchdown, an Arizona victory should be difficult.