Smiles and Songs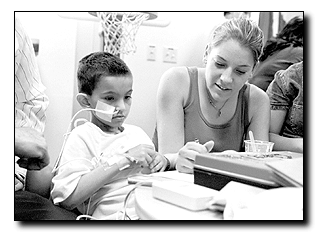 Joshua D. Trujillo
Arizona Daily Wildcat
Art freshman Jaime Easton helps six-year-old patient Caleb Clark color a picture at the UMC pediatrics playroom yesterday afternoon. Clark, who has had two recent heart operations, was treated to an afternoon of art and music by the Muralcles program where UA students help young patients through rough times with crayons and guitars.
he quiet young boy in a green hospital gown grasped his small hand around a crayon and carefully began to color.
With his father sitting attentively at his side, the boy spent his afternoon in the Pediatric Activity Room at University Medical Center shading in the outline of a colorfully sketched horse, a simple activity that may help the young surgery patient heal.
Six-year-old Caleb Clark has had two heart operations since he came to UMC from his home in Sonoita, Mexico. His most recent surgery was Oct. 4.
Clark is one of many children who now receive art therapy from members of Muralcles, a new University of Arizona organization that brings art and music to the lives of patients in UMC's pediatric ward. Muralcles, which derives its name from "murals" and "miracles," visits the ward three times a month.
"Our objective is to provide healing, friendship and support to seriously ill children," said Lindsay Galbut, a marketing senior and the founder and president of Muralcles.
Galbut said she was inspired to create a group such as Muralcles as a sophomore in high school, when she saw a movie depicting an AIDS-stricken child living his final days in a barren, sterile hospital room. The image struck her so strongly that she decided to start a group that would bring color and art to help cheer up children confined to hospitals.
Galbut said hospitals have long incorporated art as a therapeutic outlet for their patients.
"It's been shown through research that kids who are exposed to art ask for less pain medication," she said. "It's really awesome."
Galbut said that since September the club has raised about $1,500, mostly through donations from local businesses. With future funds, she hopes to take Muralcles to other local hospitals, where they will visit patients, bearing markers, musical instruments and supplies to paint brightly-colored murals on the pediatric ward's walls.
At UMC, the walls are already decorated with paintings of popular cartoon characters.
"One of our huge components is murals, but since there are murals here, we're going to bring the murals to other hospitals," Galbut said. "When we go to other hospitals we will be painting murals in the patient rooms, playrooms and common areas."
Although only 10 members were present at the group's debut event yesterday, the new club is already over 70 members strong, Galbut said, with volunteers' majors ranging from photography to business.
The members are split up into mural, music and art committees. The mural committee is currently researching area hospitals while the music and art groups arrange for live and recorded music to be played while the children work on crafts.
Art freshman Jaime Easton said she joined Muralcles because she wanted to work with children.
"I love kids," Easton said. "I'm a Christian and I think He (God) really loves children, and He's given me the chance to work with kids."
Linda Teso, a Career Services coordinator and one of the club's advisers, also enjoys Muralcles' work because of the positive interaction with youngsters.
"I'm a proponent for kids and making them happy kids," she said. "It's really nice to see the U of A students connect so well with them."
Teso said she hopes the organization will continue to thrive and help sick children.
"This is an organization I truly believe in," Teso said.