Dancing from Down Under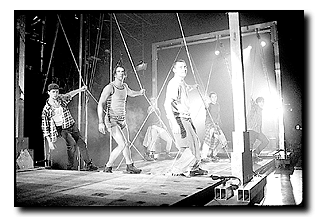 Arizona Daily Wildcat
Photo Courtesy of Centennial Hall With chiseled bodies and ripped jeans, the Australian group "Tap Dogs" performs their industrial-inspired dance at UA Centennial Hall this weekend. The show combines theater, dance and urban life to provide unique entertainment.
By Graig Uhlin
Arizona Daily Wildcat,
October 19, 1999
Real men don't dance.
But don't say that in front of the athletic group of six men that make up the Aussie dance group "Tap Dogs," performing at the University of Arizona's Centennial Hall for three shows on October 22-23.
These mates are decidedly masculine; muscular and dressed in ripped jeans and Blundstone work boots. Their tough look is all part of their rough, energy-packed show that lasts an explosive and invigorating hour and a half.
The set which readily takes abuse from the pounding feet of the dancers is industrial in its look. It is a world of steel and wood and bright spotlights that provides the backdrop for a show that the group's official Web site sums up as "part theater and part dance, part rock concert and part construction site."
The show provides an eclectic yet exciting mix of entertainment. Live music, performed on stage, accompanies the dancers. The dancing itself has redefined tap dancing for the 90s, providing the audience with nonstop visual and audio delight.
The history of the show stems from one talented man, Dein Perry, who started tap dancing at the age of four. While working as an industrial mechanic during the day in the steel town of Newcastle, Australia, just north of Sydney, Perry was dancing at night until he became Australia's preeminent tap dancer.
His success afforded him the freedom to create his own show, one that he envisioned would be directly influenced by the industrial environment that he grew up in. Upon receiving a small government grant, Perry gathered his friends that he had known in dance school who had all moved on to industrial jobs to form a group called "Tap Brothers."
"Hot Show Shuffle" - a show also choreographed by Perry - was performed by the group in London. This show earned Perry the 1996 Olivier Award for Best Choreography.
Capitalizing on his success, Perry returned to Australia in order to collaborate with designer Nigel Triffit and composer Andrew Wilke. This union, combined with the talents of the dancers, produced "Tap Dogs," and earned Perry his second consecutive Olivier Award.
Associations may be made to the Broadway show "Stomp," which used similarly inventive dance moves and performance styles. Even still, the shows are distinctly different.
"Tap Dogs" provides a unique form of theatrical entertainment, while "Stomp" wanted to explore the ability of everyday objects to be used in nontraditional ways. Don't confuse the two and don't dismiss "Tap Dogs" as its derivative. It has created its own sense of style that the San Francisco Chronicle has called "an irresistibly noisy explosion of modern urban life told in dance."
Those who wish to learn more about how "Tap Dogs" is revolutionary can attend an "Arts Encounter" discussion on modern dance. These discussions will be held in CESL 102, 45 minutes before each performance.