Leaps and Bounds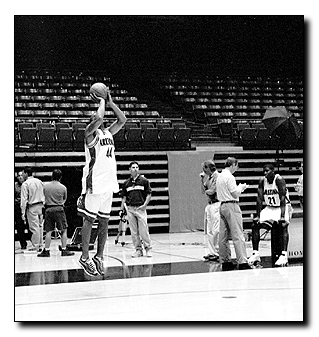 Wildcat File Photo
Arizona Daily Wildcat
Sophomore swing forward Richard Jefferson shoots around before practice yesterday during media day at McKale Center. Jefferson was criticized for not being consistent last season, but will have the opportunity to improve upon that because he is not guaranteed a starting position on the team due to the depth the Wildcats have.
One of Arizona's flashiest players was also one of its most inconsistent last season. Sophomore forward Richard Jefferson averaged 11.3 points and 4.8 rebounds per game and was named to the Pacific 10 Conference's All-Freshmen Team, but many critics blamed him for being too up and down.
"It was definitely not as good as it could have been, but at points, it wasn't as bad as people made it out to be," he said. "I definitely think I can play a lot better and be a lot more consistent."
He'll have to do just that to earn the respect of Damon Stoudamire, a former UA guard who now stars for the NBA's Portland Trail Blazers. Stoudamire sounded off on Jefferson following the Portland-Phoenix NBA preseason game at McKale Center on Sunday when asked if he had any predictions on how Arizona will do this season.
"I know one prediction, I know Richard Jefferson's got to play harder," Stoudamire said. "I've seen him play and he's got to step his game up, that's the only thing I can say. If he steps his game up, they're ready to roll."
Jefferson, a McDonald's All-American in 1998, only played the post position during his high school career at Moon Valley in Phoenix. Adjusting to the swing forward position in college while trying to handle the high expectations wasn't always easy.
"Last year was my first year playing strictly on the perimeter, so I had to do a lot more perimeter skills - off the dribble jump shot and the 15-footer - things you need to be a good perimeter player," he said.
One of the best athletes and leapers on the team, the coaching staff had trouble matching someone up with Jefferson during practices last year. That shouldn't be a problem this year.
Luke Recker, who suffered a fracture dislocation of one of the small bones in his left wrist during a car accident this summer, is healing faster than expected and should be ready to go full-contact in practice by late-November, early-December. Recker will have to sit out the 1999-2000 season after transferring from Indiana, where he led the Hoosiers with 16.1 points per game, but he can practice with the team.
"I'll give him more than he can handle," Recker said. "Richard and I joke around about it a lot, we talk a lot of trash. The great thing about it is it's going to make us both better players."
Redshirt freshman Luke Walton, junior Lamont Frazier, sophomore Ruben Douglas and freshman Gilbert Arenas will also be there to push Jefferson in practice if he needs a jolt. But UA head coach Lute Olson expects every player to play with maximum effort every day.
"The best motivator is playing time," Olson said. "We have options, and Richard is well aware of them. I've been pleased with what I've seen from Richard in practice. He's been going hard."
After undergoing surgery at the end of last season to repair a stress fracture in his left foot, Jefferson worked hard to improve his game during the summer.
"I just did a lot of consistent work, working on my jump shot and ball-handling, just stuff that I think I really needed to," he said.
Not all of the negative comments aimed at Jefferson are justified. He was one of Arizona's key players throughout the season, especially during Pac-10 play, where he improved his numbers to 12.8 points and 5.2 rebounds per game. He had a season high 25 points and 12 rebounds in the win over Washington State in January and then followed it up two days later by hitting the winning shot against Washington.
Of course, he was being upstaged by fellow freshman Michael Wright, who was named a Freshman All-American, but that didn't mean Jefferson was slacking off.
"That year is behind me, I just have to learn from it. Now I just need to come out here, now that I know a lot of things from last year, that's going to help my performance and my consistencies," Jefferson said. "Things like those experiences that you learn from are only going to help you."
The team can always count on Jefferson for a thundering dunk to ignite the crowd, but the lingering question is still whether or not he can play inside and outside, night-in, night-out.
"(Stoudamire's) first question was if Richard was going to give us the consistency at the three position, and that's a big question," Olson said. "There were flashes of brilliance at times, but then there were other times last year when we had four other guys on the court. He needs to have it turned up every time he's in the game."