Corndoggers survey, serve students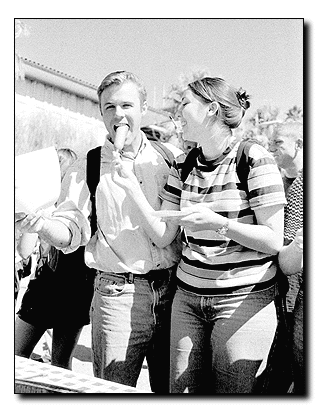 Wildcat File Photo
Arizona Daily Wildcat
Nursing junior Kelli Riggs playfully crams a corndog into engineering junior Traver Riggs' mouth yesterday on the UA mall. The Corndog Appreciation Society handed out free corndogs to interested students and asked for a greater overall concern for the endangered meat on a stick.
By Ty Young
Arizona Daily Wildcat,
October 20, 1999
In the first-ever Corndog Awareness Day, members of a new UA club canvassed the student population for opinions surrounding the group's namesake product.
For one hour yesterday, the self-proclaimed "Corndoggers" handed out surveys on the University of Arizona Mall. In addition, club members provided free corndogs, complete with ketchup and mustard, and pamphlets detailing the club's purpose.
Club president John Collin S. Holman said the event exceeded expectations.
"There were quite a lot of people out there," he said. "We weren't expecting such a large turnout."
The Corndog Appreciation Society gave out a total of 500 corndogs to the hungry crowd.
Holman said two Tucson businesses donated money and food to the club.
"One hundred corndogs were actually donated by Albertson's and so was the ketchup, mustard, and plates," he said. "Sound FX Audio also donated enough money to buy 400 corndogs."
The crowd was asked to answer questions concerning, among other things, their favorite corndog sources and preferred condiments.
CAS asked the audience to give additional comments, including corndog memories and corndog poetry.
Some students obliged.
"I had a bad reaction to some cheap corndogs once," said undeclared sophomore Jon Confar. "These however, are really good."
Another student raised issues concerning the lack of vegetarian corndogs.
"I used to love corndogs but I had to give them up when I quit eating meat," said Debbi Golden-Davis, a staff member in the financial aid office. "I am disappointed that they don't have any vegetarian corndogs today."
In the CAS pamphlets, the club members included historical facts about the corndog and also detailed club activities. CAS also used the event for recruiting purposes.
"I think he might have signed me up for it," said Rebecca Gunderson, a graduate student studying Russian. "I'm definitely going to join to get a T-shirt."
One student questioned both the club's purposes and time commitment to their cause.
"I know some of the members and I think they have too much time on their hands," said Amy Morris, a creative writing senior. "I have classes to study for and papers to do. I wonder where they get the time to do this."
Lance Colbert, an aerospace engineering freshman, raised questions about funding that the club was appropriated last week.
"It's our tuition, give me a break," he said.
Other students disagreed.
"If the club does things like community service events and gives back to the community, then I think they deserve money," Gunderson said. "I know that they are preparing an event for children."
Holman later said that he believed the event was well received by the crowd, especially because their cause is genuine.
"We transcend age, class, gender and race. Corndogs are color-blind," he said. "I thought it went over very well. It was also free and entertaining."
Some students acknowledged that they filled out surveys merely for a free lunch.
"I think it's a little ridiculous, but it's free," said Erin Beenion, a sophomore art history student.
"I think it's pretty funny. You get 'pork-on-a-stick' for free," Confar said.
Holman said that CAS will hold future events to continue their awareness mission.
"We're going to have a float at homecoming, complete with our crowned corndog queen," he said.