'Now we're gonna party'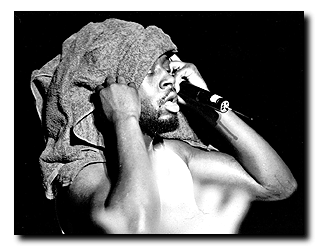 Arizona Daily Wildcat
Photo by: AARON FARNSWORTH
Wyclef Jean rocks out (above) during his concert at the UA's Centennial Hall last night. The mood slows down (left) while Wyclef Jean confides to the crowd that this is the most fun he's ever had at a concert.
When Wyclef Jean came to the University of Arizona Monday night, he brought the house down. Literally.
Thousands of tiny pieces of plaster ceiling became airborne as hip-hop artist Jean performed at the UA's Centennial Hall. A combination of a hard bass line and a roaring crowd shook dust from the hall's rafters.
Mad Lad, a local rap group of three brothers, opened the show with appearances by DJ Hurricane and artist Mankind. Despite the energy and valiant efforts of the performers, the crowd showed little interest in the brothers and remained nearly motionless during their performance.
Due to the lesser-known opening acts, doubts of Jean's performance began to circulate. These uncertainties quickly faded when he walked on stage and opened with the Fugees remake of Bob Marley's "No Woman No Cry."
The concert was scheduled to end at 10 p.m., but Jean was far from ready to exit the stage at this time. Even after he finished performing his own songs, he continued to have the DJ play music by classic rap artists such as Naughty by Nature, Dr. Dre and the Notorious B.I.G.
"For one night I really felt like the students got what they wanted - an interactive show that didn't end until we said so," said Melissa Hernandez, a 19-year-old environmental science sophomore.
After a bit of free styling, Jean declared it was time to change it up.
"Now we're gonna party straight for the next 20 minutes," he said.
He didn't lie.
Several adoring fans made their way onto the stage only to be tossed back into the crowd by security, and at least two women had to be "rescued" from the overcrowded orchestra pit right in front of the stage.
Jean pointed out, "If you're not going to be crazy, then don't come up to the front."
The show continued until 11 p.m. taking on the shape of a dance party rather than a concert. The highlight of the evening was when Jean literally dragged Centennial Hall Director of Operations Ed Brown onto center stage to beg him for a time extension.
Jean insisted the audience deserved a long concert because college is a hard time in life.
"I know because I got kicked out," he said.
Brown only agreed to extend the concert time after Jean strummed a few chords on his guitar from Pink Floyd for the audience. After a hesitant nod, Brown agreed to give Jean an extension.
For the next hour, the audience protested every time producers from Rising Star Entertainment threatened to finally end the show. Jean ultimately ended the concert with a unusually mellow and soulful version of "Knocking on Heaven's Door," leaving the audience in complete hysteria.