UA secondary takes its lumps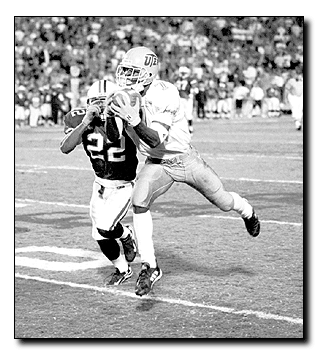 Ian C. Mayer
Arizona Daily Wildcat
UA senior cornerback Leland Gayles gets beat for a long pass by UTEP's Lee Mays during the game Saturday night. The Wildcats' secondary has been criticized all season, but head coach Dick Tomey said he has seen improvement over the past few weeks.
There might be only one group of UA football players who have endured the treatment in the media and in the public that compares to the kickers.
It's the defensive backfield, which has taken its lumps in the absence of All-American and current Baltimore Raven Chris McAlister.
But the criticism might not be all that deserved.
"I think in the secondary, it's so easy for people to pick on them," UA head coach Dick Tomey said. "You don't always notice what the players up front do, but you notice the secondary. Most people like to deal in simple things and criticizing people that are that exposed is easy. We play so much man-to-man coverage our guys are going to get beaten from time to time."
In truth, the UA pass defense is ranked fourth in the Pacific 10 Conference, giving up 223 yards per game. A lot of that could be contributed to a pass rush that, until the past couple of games, was making little or no impact.
Still, the defensive backs aren't crying over what's being said about them.
"It's a little frustrating," senior cornerback Leland Gayles said. "But I think as a DB you know that, we're out (alone) on the island. As it is we're the last one you're going to see if it's a long run or a long pass. We've known that since we've been here."
Arizona limited Texas-El Paso to only 157 yards passing last week, though it showed a weakness in terms of stopping the big play, something Gayles said the secondary still needs to work on.
Gayles said a big part of the defensive backs' improvement is due to better conditioning and gaining more experience.
"I think mainly we're in better shape," he said. "Myself, I wasn't in that great shape early on. That and practicing every day. Getting the physical reps. Really, we have no choice but to get better after the first couple of games."
Tomey noted senior strong safety Greg Payne's improved play of late, including his interception return for a touchdown against UTEP.
"Greg Payne is playing really well for us," Tomey said. "He's our leader back there. They know we can make more progress."
Oregon and its No. 3-ranked passing offense figures to provide another big test.
"They've got good speed," Gayles said. "Oregon is traditionally (a passing team). They go vertical a lot on you. We're going to have to guard against the deep ball, that's probably the main concern."
Senior quarterback Keith Smith's X-rays came back negative yesterday, meaning he should be available for Saturday's game against Oregon.
Smith suffered bruised ribs in the first quarter of last week's win over Texas-El Paso.
Another Dorsey (Los Angeles) High School player has arrived on the UA campus alongside senior wide receiver/cornerback Dennis Northcutt.
Junior Lamont Frazier, a newcomer to the UA men's basketball team, was one of Northcutt's best friends in high school.
"That's my boy," Frazier said. "I'm loving it. He's here, he knows everybody before I got here. So now it's like he's going to look after me. He's getting me familiar with the place, he's introduced me to people who've been here with him."
Northcutt helped last spring in recruiting Frazier, whom UA coaches are looking at as both a point guard and shooting guard.
Frazier said having a friend on campus has helped in his transition.
"It's a good experience," Frazier said. "You never know where you're going to go after high school, if you're going to get to go with your friends. I just happened to be here with Dennis. It's a great opportunity. I never did think that ... I used to watch him, look at Dennis up at Arizona playing football."
Frazier said he has been impressed with Northcutt's performance this year and the team's performance, despite the Wildcats' initial struggles.
"(At) the beginning of the year they were ranked so high," Frazier said. "He (Northcutt) said they were okay, he said he didn't know if they were as good as they were ranked. Now they're coming along pretty good."