Ducks licking their wounds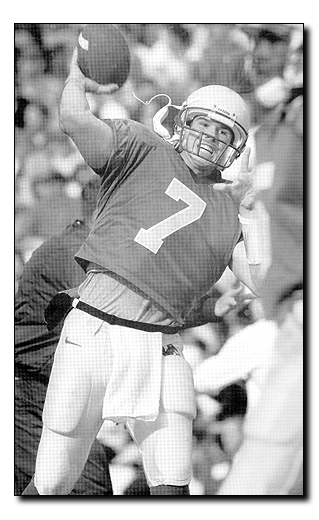 Arizona Daily Wildcat
Photo courtesy of Oregon media guide Oregon quarterback A.J. Feeley is in the midst of passing the ball during a game last year. The Ducks, who have a new look with new uniforms, will be in Tucson this Saturday night to take on the Wildcats in a game that is pivotal for both teams in the Pac-10 race.
It's been a rough season for the Oregon Ducks.
They stand at 3-3 overall, 1-2 in the Pacific 10 Conference going into this Saturday night's game against Arizona, coming off a bye week which has helped them recover.
Oregon recovered to an extent, but not completely.
"I don't know if we got as much out of this bye week in terms of health," Oregon head coach Mike Bellotti said. "Certainly the daily players got a chance to rest and recover, but guys like (linebacker) Garrett Graham, (offensive tackle) Al Cotton, (wide receiver) Ray Brust and (running back) Herman Ho-Ching are still either out or very doubtful for this game. It still didn't get us to the state of health I'd like us to be at."
While Bellotti said he would have liked to have gone into the bye week coming off a win (the Ducks lost 34-29 at UCLA), it still wasn't an entire waste of time.
"It's helped us regain some energy," he said. "I think when you play for six straight weeks in terms of games and then also you tack on a couple of weeks of double-day practices ahead of that, there's a fatigue factor and an accumulation of bumps and bruises that just don't go away in a day's rest between games.
"So, for us, I think certainly for our veteran players, it was a chance to recharge our batteries and reflect on what we've accomplished and what we haven't accomplished."
Oregon has a team loaded with veterans, including six senior starters on offense and eight on defense.
Leading the way offensively, though, has been junior quarterback A.J. Feeley, who has emerged from the shadow of current Cincinnati Bengal Akili Smith.
"He looks very good," UA head coach Dick Tomey said of Feeley. "When you look at the film, you see a quarterback that doesn't look like a first-year quarterback. He's been in the program for three years, and he doesn't play like the quarterbacks that are freshmen."
Feeley leads the Pac-10 in completions (118), passing yards (1,702) and touchdowns (13), but Bellotti is worried about the guys who protect him.
"We're very thin in the offensive line," he said. "Very, very thin."
The Ducks' running game has suffered even more, though Bellotti isn't blaming the offensive line for that.
"I don't place a great burden on them in terms of our lack of productivity run-wise," he said. "I think it's been more due at this point to the health of our running backs and the absence of healthy running backs has hurt us in that regard."
All told, the Ducks have only 765 yards rushing as a team, while UA senior running back Trung Canidate has 866 yards by himself.
But, as Bellotti said, part of the problem has been the injuries to his starters, including senior Reuben Droughns.
Droughns missed the Arizona game last year after breaking his leg the week before at UCLA. This year he's been slowed by a rib injury.
"I think Reuben's doing fine," Bellotti said after the bye week. "I think that he's excited, and I think he feels the best he's felt certainly since the USC game. The ribs are probably never going to be healthy this year. I mean you're going to continue to take a pounding on them, but I think that it's tolerable. He's a tough kid and wants to play."
Bellotti said Droughns' importance to the team is more than just in terms of rushing yards.
"He certainly brings a spark, brings an attitude on the field that is infectious for our team," Bellotti said. "It'll be a tremendous challenge each and every game (for him)."
Bellotti said he knows the Arizona defense, which has surrendered only 95 rushing yards the past two games after giving up 486 in its first two games, will be keying on Droughns.
"Arizona is a physical football team, and they pride themselves on that, as we do," Bellotti said. "I think Reuben knows he's going to get rocked and socked out there and come back after every play, and I think he's ready for that."