UA blood drive closing in on ASU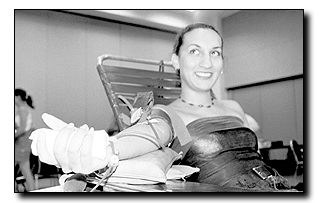 Arizona Daily Wildcat
Photo by: SARAH BROWN
Melissa Green, a math and computer science freshman, shows her Wildcat spirit yesterday by donating blood in the Memorial Student Union Senior Ballroom. With two days left in the blood drive, the UA trails ASU by about 20 pints.
As the UA-ASU Blood Donor Challenge comes to a close tomorrow, event coordinators from the American Red Cross are confident University of Arizona students can overtake their nemesis to the north.
Despite a slow start - UA trailed Arizona State University by 173 pints after the first day - Wildcat donors are steadily closing in on the Sun Devils.
Yesterday morning, the Red Cross had drawn 663 pints from UA students, compared to ASU's 688 pints after the third day of competition.
However, more participation from the UA community is still needed to claim victory over ASU.
"It'll take a pretty big push, but I think we can definitely do it," said Brian Green, a Red Cross representative.
"Even though we're catching up to ASU, we still need to 'Bear Down,' if you will," Green said. "We can definitely do this, it's right around the corner - it's at our fingertips."
The Red Cross will take blood today in the Senior Ballroom of the Memorial Student Union, as well as La Paz Residence Hall and the Facilities Management building, 1331 E. Fifth St.
A mobile donation site will also be out on the UA Mall tomorrow in hopes of taking advantage of the Family Weekend crowd, Green said.
Bragging rights have belonged to UA for eight of the 12 years the challenge has taken place.
"The rivalry motivates many people to donate blood," said Karen Murphy, head nurse at the Senior Ballroom donation site.
"They've been coming in for the challenge against ASU, so they're really enthusiastic about it," Murphy said. "They love doing this each year."
Jeremy Cohn, a computer engineering junior, said he donated blood in order to determine his blood type so he could travel to Israel.
He said he was also motivated by the beneficial aspects of donating blood.
"Giving blood is supposed to be healthy, and it's a good cause," said Cohn, who had never donated before.
Diann Porter, a lecturer from the math department, said donating blood is "just one of those things you should do."
"Someday I might need it," she said.
Green said he hopes UA students would come out in even greater numbers during the final days of the challenge, since donating blood is one of the simplest things a person can do to help save lives.
Up to four lives can be saved from one person's donation, he said.
"It's one of the easiest things you can do that does as much good as it does," Green said.