Opportunities lost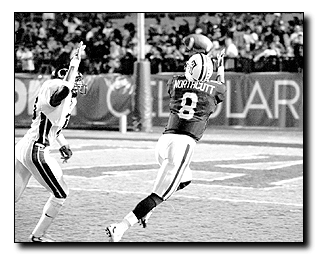 Matt Heistand
Arizona Daily Wildcat
Senior wide receiver Dennis Northcutt gets ready to catch the fade pass from senior quarterback Keith Smith, which eventually resulted in a UA touchdown putting the Wildcats ahead 34-27 early in the fourth quarter. UA, though, was unable to hold three different advantages in Saturday night's game, losing to Oregon 44-41.
An angry, upset and shaken senior kicker Mark McDonald trembled off the field Saturday night amid heckles from teammates, fans and no doubt, his conscience.
With seven seconds left, 55,251 fans in the stands, a Rose Bowl and a starting job on his shoulders, McDonald sailed a 45-yard field goal wide left to give the Oregon Ducks a 44-41 victory.
"It is way too simple to bring it down to that play," UA head coach Dick Tomey said of McDonald's missed field goal. "We had problems on defense, with our kick coverage and offensive inconsistencies. Everybody focuses on the end, and it's not that simple."
The Wildcat defense, ridden with injuries, allowed Oregon 435 total net yards of offense, four touchdowns and four field goals in the loss.
UA's special teams didn't help out the defense much either, allowing the Ducks an average starting field position at their own 43-yard line, as Oregon chalked up 207 yards in kickoff returns and 81 yards in punts returns.
"You just got to give credit to Oregon," UA senior running back Trung Canidate said. "They came in here and took the game away from us. We did a lot of things right, but we did a lot of things wrong. This is football, this is four quarters of play, and you have to give them credit."
In the fourth quarter, Oregon receiver Tony Hartley grabbed a 36-yard touchdown pass from the Ducks second-string quarterback Joey Harrington - who had earlier replaced starter A.J. Feeley - to even the score at 34 after UA's senior quarterback Keith Smith hit senior wide receiver Dennis Northcutt on a fade for one of his two touchdowns.
Following Hartley's touchdown, Canidate once again showed his ability to get the big play, as he scored on a 33-yard reception from Smith with 9:07 left in the game.
Earlier in the third quarter Canidate had a 60-yard touchdown run that tied the game at 27 before McDonald missed the extra point.
"We made some adjustments for the run game. They were bringing their safety up like they showed on film so we made some adjustments at half-time," Canidate said. "It worked out for a little bit, but the ultimate adjustment is you trying to get a win, and we didn't do that. We needed that one little bit more adjustment."
Canidate's touchdown reception was the last scoring the Wildcats would be able to muster as UA's defense was unable to stop Oregon's running back Reuben Droughns, who finished the game with 202 yards on 45 carries.
With 6:08 remaining, Droughns rumbled up the middle for a three-yard touchdown run to knot the score at 41-41.
"Reuben had a great day. He is a terrific player, and we knew that," Tomey said. "He went back to doing what he did last year. We did a nice job against their passing game, but Reuben really hurt us. We have a tremendous amount of respect for him. When he is in the lineup like that, they are a different team."
After Droughns' touchdown run, the Ducks marched 37 yards on nine plays to set up a 32-yard field goal with just over a minute to go.
Oregon place-kicker Josh Frankel nailed it, capping the scoring and giving Oregon their second conference victory of the season.
UA made one last effort as they took the ball down to the Oregon 27-yard line, but McDonald missed the 45-yard field goal to the left, cementing the Oregon victory.
After the loss, Smith talked about the final result of the game.
"I'm going to let this one hurt for a while," he said. "I've never felt like this after a game, it just doesn't feel right."
The Wildcats' first play from scrimmage may have been a tell-tale sign of what was to come as junior quarterback Ortege Jenkins missed Canidate on a lateral pass in the left flat. Canidate fell on the fumble in the end zone for an Oregon safety.
Frankel, on his way to a 4 of 5 kicking night, nailed a 44-yard field goal at 6:21 in the first quarter to put Oregon up 5-0.
The Wildcats then scored on a 65-yard run by Jenkins, but Oregon came back to score 16 straight points before the Wildcats could come back to tie the game at 21. Frankel kicked a 43-yard field goal with no time left on the clock to put the Ducks up 24-21, setting up the dramatic second half.