Students pack 675 lunches for needy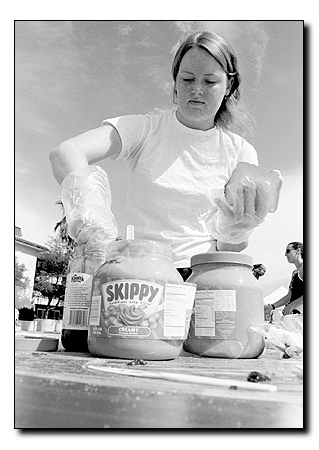 Kristy Mangos
Arizona Daily Wildcat
Studio art freshman Emily Yetman prepares a peanut butter and jelly sandwich yesterday on the UA Mall as a part of Volunteer Week. The lunches are soon to be sent to local soup kitchen Casa Maria.
UA students had a hands-on opportunity yesterday to help in the fight to feed Tucson's homeless as the UAB began Fall Service Week.
The Project Volunteer Committee, consisting of 15 students, set-up a table where passing students could help prepare sack lunches - peanut butter and jelly sandwiches and Capri Suns - which were to be sent to Casa Maria, a local soup kitchen.
The Project Volunteer Committee is a branch of the University Activities Board that organizes charity events throughout the year.
Daryl Nauman, a public management junior and volunteer special events director, said the group made about 675 lunches yesterday. The committee had expected to make between 700 and 850 sacks.
Adam Bingham, geological science freshman, participated in the sandwich making.
"I walked by, thought I didn't have the time to help, but I thought I should do unto others," he said. "I helped, made some sandwiches and it brightened my day."
Everyday this week the committee will be hosting events on the University of Arizona Mall from 10 a.m. to 2 p.m.
Today, the volunteer committee is distributing information on breast cancer, organ donation and AIDS.
Wednesday, students can stop and create Halloween cards that will be sent to a local retirement home.
More specified organizations like Mothers Against Drunk Driving, Habitat for Humanity, the Red Cross and the March of Dimes will be around to encourage students to get involved Thursday.
Friday, children from the John A. Valenzuela Youth Center will travel to the mall where they will have the opportunity to carve pumpkins, have their face painted and travel to cardboard houses to trick-or-treat.
"Friday seems most exciting," said Alena Chaika, committee member and Management Information Systems sophomore.
The preparation will begin today, and students can help construct the "homes" with markers and paint.
Funding for the week's events were from UAB which donated $700 and from McDonald's which donated $500.
The Project Volunteer Committee also organizes the Angel Tree Project in the winter, where students donate money for gifts for needy Tucsonan children.
In the spring, the committee organizes the All-Campus Philanthropy event, in which students work at local charities for the day.