UA researcher tracks migrating sea turtles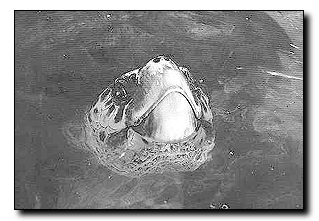 Wildcat File Photo
Arizona Daily Wildcat
Adelita, a loggerhead sea turtle, peeks out of the water while in captivity, prior to being released in 1996. UA doctoral student Wallace Nichols is tracking four loggerhead turtles via satellite as they migrate between Baja California and Japan.
Compelled by an instinctive drive that takes them thousands of miles around the world, loggerhead sea turtles have roamed the earth's oceans for roughly five million years.
Scientists who study these ancient amphibians say the turtles are increasingly threatened by humankind's growing impact upon the environment.
In an attempt to learn more about the turtles and the threats to their survival, University of Arizona Wildlife and Fisheries doctoral student Wallace Nichols is tracking four adult, female loggerheads via satellite.
Nichols, who has studied the turtles since 1995, says that "Yamilet" - the first wild adult loggerhead he has tracked - is now more than 1,500 kilometers west of the Baja California coast. Yamilet - named after the daughter of the fisherman who caught her - was released March 16 off the coast of Santa Rosalita, Baja California, Mexico.
Loggerhead turtles are found in temperate, subtropical and tropical waters all over the world. In the Atlantic Ocean, they inhabit coastal waters from Newfoundland to as far south as Argentina. They have also been spotted in the eastern Pacific Ocean from the Chilean coast in the south, to as far north as Alaska.
Nichols' research is focused on a loggerhead population whose territorial range spans the Pacific Ocean between Baja California and their nesting grounds in southern Japan.
Yamilet's migratory path across the Pacific is similar to the one taken in 1996 by Adelita, the first turtle ever to be tracked from the Baja coast all the way to Japan.
Nichols is presently in northern California conducting his research and responded last week to an interview via email.
"They move as hatchlings along the Japanese coast into the North Pacific, where they may take two to six years to travel across to North America," Nichols said. "We find them when they are about the size of a basketball or larger."
Nichols said once they reach the Baja coast, the young turtles feed in the waters just offshore, moving with the currents while slowly growing to maturity.
The turtles usually reach maturity when they are between 16 and 40 years old.
"At maturity they move back to Japan to reproduce," Nichols said. "Baja is one stopping point in this large, current-driven cycle."
On average, a loggerhead can weigh up to 300 pounds and live to be anywhere from 80 to 100 years old, Nichols stated.
Nichols' research promises to shed more light on how turtle populations are being affected by so-called "human impacts."
"This work has international significance," said Cecil Schwalbe, an assistant professor of UA's School of Renewable Natural Resources. "Mexican, Japanese, and American scientists are all collaborating on this research so that enough can be learned about the movements and ecology of these turtles to focus conservation efforts where they will do the most good."
Schwalbe is serving as Nichols' major professor during his doctoral research.
The loggerhead sea turtle has been listed as a threatened species by the National Marine Fisheries Service since 1970. Recent evidence suggests that their plight may be growing even more severe.
Nichols said the Baja loggerheads are increasingly threatened by commercial fishing operations and growing beach development on their historic Japanese nesting grounds.
This summer saw high levels of loggerhead mortality along the Baja's Pacific coast where the turtles feed on red crabs amid a tangled web of nets and hooks, Nichols said.
"I'm concerned that the combination of the incidental catch of turtles in the eastern and western Pacific, and development on their nesting beach means bad news for loggerheads," Nichols said. "In fact, according to Japanese biologist Naoki Kamezki, the nesting population in Japan has decreased by 50 percent in the past 10 years."
Schwalbe said Nichols' research has already succeeded in drawing attention to the loggerhead's plight through the use of the World Wide Web.
Primary and secondary students all over America have adopted the turtles and helped raise funds for continued research, Schwalbe said.
Nichols hopes that his efforts will foster an even greater public awareness of the growing threats to the turtle's long-term survival.
"Fishermen respond favorably when we talk about turtle trans-pacific migration - most had no idea the turtles swam so far, and they are noticeably impressed," Nichols said. "Maybe that fascination will translate into a few more live turtles."