UA professor explores modern media through sci-fi, 'virtual learning'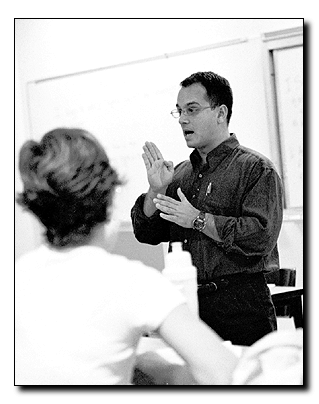 Joshua D. Trujillo
Arizona Daily Wildcat
Professor Daniel Bernardi lectured to his media studies class yesterday morning about the importance of aliens in pop culture, society and their use in metaphor. Bernardi is the author of "Star Trek and History: Race-ing Toward a White Future," a book about the meaning of race in contemporary culture "through the lens of Star Trek."
When most people hear the word alien, they think of little green men with big black eyes being chased around by uptight FBI drones wearing trench coats.
In Media Arts 335, Daniel Bernardi completely redefines the media's conception of aliens. "Signs of Aliens" generally focuses on new media, race studies and science fiction. Bernardi said, "The alien is used as a pretext for students to think critically of modern culture in media."
Originally from San Juan, Puerto Rico, Bernardi received his bachelor's and master's degrees in media arts at the University of Arizona. He earned his doctorate at the Department of Film and Television at UCLA. Besides being a teacher's assistant throughout grad school, Bernardi taught at UCLA and UC Riverside before returning to the UA.
Bernardi has worked for the Sci-Fi channel for the last couple of years providing marketing skills and programming development. The Sci-Fi channel also produced his interactive on-line show, "Future Now By Daniel Bernardi," which was canceled six months ago. Since then, a new producer has picked it up and is developing the show in a new format.
He has edited two anthologies, both on race and cinema. His own book, "Star Trek and History: Race-ing Toward a White Future" was first printed in 1998 by Rutgers University Press.
"The book is about the shifting meaning of race in contemporary culture through the lens of Star Trek," Bernardi said.
"As a scholar interested in why popular culture is racial, and as a screenwriter as well as a fan of television, I love sci-fi. So I put the two together. Though in researching the topic to show race relation in society and media, I found racism."
Bernardi is currently composing a Web site for Media Arts 203, "Concepts in New Media," which should be running by this summer. The idea of this class is to create a totally interactive classroom education through a 56k modem and Internet connection.
The course will include all the attributes of a traditional class curriculum without the classroom. With the use of chat discussions, lectures and hyperlinks to important topics, anyone in the world can take the course, facilitating the "virtual learning process."
Bernardi always keeps his students' success and development in mind by making resources such as Web sites, previous papers and discussions readily available for their reference. He said, "I like to build my students' ego, I want them to feel confident enough to take risks."
Journalism senior Kate Woodfill said, "Dr. Bernardi is extremely competent and has a wide base of knowledge...he's really good." She added, "I've never taken anything like it (his class). It's an open forum of discussion, a free flow of very interesting ideas."
Fine arts studies senior Jana Minka agreed. "I think he's progressive in thought and innovative in his teaching techniques," she said.
"Sci-fi is a genre that poses many intellectual questions," Bernardi said. He will continue his unique media inquiries with his new book, "Signs of Aliens" which will be based on the eponymous course. Clearly, if the truth is out there, Bernardi is going to find it.