Camp Wildcat staffers preparing for busy week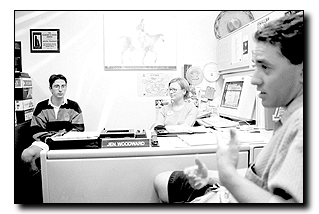 Matt Heistand
Arizona Daily Wildcat
Andrew Edmonds (from left), vice chair of Camp Wildcat, Jennifer Woodward, UA assistant coordinator of campus activities and Justin Price, chairman of Camp Wildcat, speak about Camp Wildcat's upcoming events yesterday afternoon in the Memorial Student Union. This week is known across campus as Camp Wildcat week.
Children, education and fun-filled adventures are three important values that push UA's Camp Wildcat to reach out into the community and boost the esteem of underprivileged Tucson children.
This week is Camp Wildcat week, one that the club has filled with back to back events in the Tucson and University of Arizona communities.
"We have a busy agenda (because) we are trying to make a difference," said Andrew Edmonds, vice chair of Camp Wildcat and microbiology senior.
Today, members of Camp Wildcat will compete against seven other clubs in the Club Competition Relay on the UA Mall from 11 a.m. to 1 p.m. Tomorrow is the Camp Wildcat fundraising bake sale and Friday, the club will take Tucson youth to the UA's Flandrau Science Center.
Camp Wildcat is a student-run club that provides cost-free activities for underprivileged youth in the Tucson community. Edmonds said the club makes a large commitment to the betterment of the next generation.
"Everything that happens is because of the (UA) students," said Justin Price, chairman and elementary education junior. "They are helping because they want to help (and) it comes out of their blood, sweat and tears."
Through daytime activities on camps, the club makes stronger connections between students and their peers, a connection that enforces a greater sense of self-awareness and expectations to succeed.
"They're learning good values," said Jennifer Woodward, UA assistant coordinator of campus activities. "It's a mentorship letting them know that anything is possible (and that) college is a possibility."
Tucson youth learn different types of art, math, science and problem solving skills when they attend the weekend camps, all of which they will be able to use once they leave the camp.
"It's a combination of both (entertainment and education)," Woodward added.
The children involved said they are grateful that the UA students are contributing their time to the camp to ensure the students' happiness and success.
Students involved said Camp Wildcat activities are consistently fulfilling.
"It's the best way I can spend my time," said Anastasia Ching, journalism sophomore and Camp Wildcat member. "Every camp I've gone to, it just gets better. It's the satisfaction knowing that these kids are having a great weekend and you're helping them have a great weekend."