ASUA Senate to consider adding seats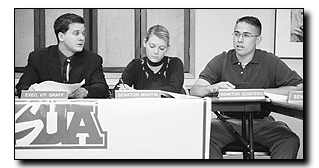 Eric M. Jukelevics
Arizona Daily Wildcat
ASUA Sen. Ray Quintero (right) discusses the Senate representation survey at the ASUA meeting last night in the Memorial Student Union. In two weeks, ASUA will survey students about restructuring the Senate membership.
ASUA senators, some of whom will run for re-election next semester, said last night they will begin gathering student opinion about possibly increasing the number of members who sit on the Senate.
Depending on student reaction, an amendment could be added to the Associated Students of the University of Arizona's constitution that could raise the number of Senate seats from 10, senators said last night during their meeting in Memorial Student Union room 256.
According to a proposal being considered by ASUA, future senators will be elected with at-large bids as well as nominations from all 14 university colleges.
Senators are currently nominated only through at-large bids - gathering a requisite number of student signatures.
"The Senate should be represented in a way that it makes it more accountable for the student body," said Sen. Julie Burkhart.
Sen. Ray Quintero said each college will potentially be represented if the amendment is approved.
"Each college will have the option of running a representative from their college, as well as the at-large bids," he said. "We would like the senate to be around 15 to 20 (members)."
Burkhart said that this amendment, which would become effective during the 2001-02 academic year, will cap the number of senators at 20.
"It's really hard to represent the student body with only 10 senators," she said. "We also felt that any amount of senators over 20 would make it difficult to get things accomplished."
In two weeks, ASUA members will be surveying students about their ideas for restructuring the Senate.
"We want to see what the students feel about the student representation in student government," Burkhart said. "We didn't want to put words into their months."
ASUA President Cisco Aguilar applauded the Senate's efforts.
"I was very happy when I heard the proposal," he said. "I think it will really help represent the students better."