Athlete Of The Week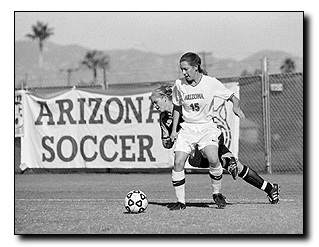 Joshua D. Trujillo
Arizona Daily Wildcat
Junior defender Ann Giallonardo takes the ball away from a Colorado College player during the scoreless tie last Sunday.
Ann Giallonardo
Women's soccer Defense
Latest Highlight: Anchoring the UA defense in a shutout of Colorado College for 120 minutes in a 0-0 tie.
Player Quote: "I'm honored, I never thought I would get it, especially playing defense."
Major, year: Speech and Hearing Sciences, junior
Why I chose the UA: Academic support.
Before each game I: "Get myself ready mentally."
Pre-game meal: Bagel
Why I wear my jersey: "There weren't many to choose from. I like No. 15."
Favorite Athlete: Mia Hamm
Favorite Sports Movie: "A League of Their Own"
Favorite UA Sports Moment: Winning against New Mexico in overtime.
Opponent you dislike most: ASU
When I was little I wanted to be: Michelle Akers
Greatest influence: Parents
Possession I would never give up: "A necklace of the cross my mom gave me."
After college: "Be a speech pathologist or work with deaf children."
Coach's Quote: "She is just one of our most consistent players, day in and day out." - UA head coach Lisa Fraser.