Park, Main Gate areas undergo reconstruction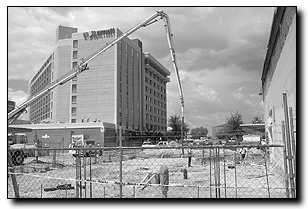 Ian C. Mayer
Arizona Daily Wildcat
This construction site on East University Boulevard will be the future location of Urban Outfitters and was once the Arizona State Savings and Credit Union. Urban Outfitters is scheduled to be completed in December, 1999.
Shopping on University Boulevard has been alive since the mid-1920s.
Anything from a dress to a bike to a roll of film to a cup of coffee is available to all Tucson residents eager to spend time near campus.
In an effort to attract business to the aging strip, the Marshall Foundation is planning to rebuild the shops on the north side of East University Boulevard in the Main Gate area to look as they did in the 1920's. The business district stretches from North Park Avenue to North Euclid Avenue.
The foundation is currently constructing a new facility for Urban Outfitters Inc., a clothing store focusing on customers between the ages of 18 and 30.
In order to maintain an enjoyable shopping experience, the Marshall Foundation, a not-for-profit organization responsible for managing businesses around the university, is always renovating and constructing new buildings as well as scouting for new businesses to inhabit the area.
"We would like to see a nice mixture of businesses," said foundation president Charles Jackson. "We want it to be better than Mill Avenue."
Mill Avenue is a popular hangout and business district in Tempe that has thrived primarily because of its proximity to Arizona State University's campus.
Urban Outfitters, based in Philadelphia, is scheduled to be completed in December 1999, said Jackson, who has been involved with the organization for 15 years.
Jackson said he hopes the store is open by the beginning of next semester.
Joshua Burell, Urban Outfitters southwest district manager, said the company is excited to move to the Tucson area.
"Tucson is very much its own market and its own culture," Burell said. "We definitely see our culture meshing up with the Tucson culture."
The foundation is planning continuous renovation and construction for the area.
The Marshall Foundation plans to tear down the north side of University Boulevard facing East Second Street, where Mama's Pizza and a merchant parking lot currently sit. They are planning to construct a six-to-eight-screen movie theater if they can find a viable tenant for the area, Jackson said.
The foundation is unsure of the future of the businesses on Park, like the Arizona Bookstore, but will help merchants like Mama's Pizza relocate to new areas.
"We don't want to kick anyone out," Jackson said. "We want to help them. They are all good tenants."
To allow for the redevelopment of the north side of University, the foundation moved the Arizona Credit Union office and the Kaplan Educational Services to new locations within the area.
Despite the shifting of some businesses, University Boulevard merchants said they are excited about the redevelopment of the area.
"It's wonderful and it's got to do a lot for business," said Mort Edberg, owner of Landmark Clothing and Shoes. "More stores mean more people."
Robert Castle, co-owner of the women's clothing shop Divaz, also said he welcomes the changes to the area.
"It would be cool to see a Foot Locker or a Nike store," Castle said. "It would be nice to get people from out of the area."
Jackson hopes to provide a good selection of merchants to attract more people to the area.
"Between Divaz and Gap and Urban Outfitters, we'll probably have a good selection here," Jackson said.
The Marshall Foundation took five years to finish the shops between North Tyndall Avenue and North Euclid Avenue, which include Johnny Rocket's, The Gap and the Coffee Plantation.
He said they are looking for reputable merchants with good credit.
Jackson said since the foundation has had a volunteer board, they had to be very cautious about what they do.
"We're basically a snail just trying to make sure that we're not making a mistake," Jackson said.