Arizona looks to score even more in 1999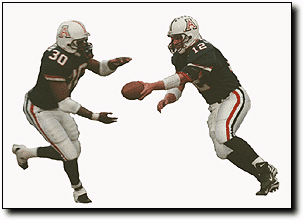 Wildcat File Photo
Arizona Daily Wildcat
"Having the two quarterbacks is amazing...you have two phenomenal guys, and you just don't think about it." UA senior running back Trung Canidate
Last year the Arizona Wildcats scored 416 points en route to a school-best 12-1 sea-son. Averaging 34.7 points per game, the UA offense stole the show, led by running backs Trung Canidate and Kelvin Eafon, the quarterback duo of Keith Smith and Ortege Jenkins, the receiver duo of Jeremy McDaniel and Dennis Northcutt and a young offensive line which came together and gave Canidate his "17 inches of daylight" while giving up only 21 total sacks.
But this year, as it is every year, the Wildcats enter the season with some key pieces missing. As they all like to say, every year is a different year.
UA head coach Dick Tomey said "we really don't know" what kind of offense the team is going to have this year.
"We'll really know a lot more after this game and games down the road," he said. "It's a whole new year. People have got to establish themselves all over again."
Canidate, Smith and Northcutt return for their senior years, while Jenkins enters his junior campaign for the Wildcats. Along with three starters back on the offensive line and a number of other key reserves stepping up to starting roles, Arizona has the look of a team that can score a lot of points in 1999.
Quarterbacks
Unlike last season, there is no controversy about Arizona's two-quarterback system of senior Keith Smith and junior Ortege Jenkins.
"It'll be game by game," Tomey said. "As O.J. mentioned, if someone gets the benefit of the doubt it'll be Keith. He's a senior."
Last season Smith completed 68.5 percent of his passes, finishing just short of the number of completions to be considered the national leader in that category.
Jenkins, who had emerged as the starter in 1997, had a less consistent season last year but still had the tailor-made highlight reel shot of his somersault flip into the endzone to beat Washington last year.
"Having the two quarterbacks is amazing," senior running back Trung Canidate said. "You think it would be a distraction, but the bottom line is that you have two phenomenal guys, and you just don't think about it."
Jenkins said having both he and Smith back is crucial to the team.
"The key to the team's success is both quarterbacks," Jenkins said. "It's a tandem deal at Arizona, and that's the way we get it done."
Being good friends off the field has helped Smith and Jenkins share the job.
"Keith took me under his wing and showed me the ropes when I got here," Jenkins said. "I have confidence in Keith, and I am sure he has the same confidence in me."
UA offensive coordinator and quarterbacks coach Dino Babers said both Smith and Jenkins dropped excess weight over the offseason and bulked up, but they still have a ways to go before they're at their peak level of performance.
Redshirt freshman Jason Johnson locked up the third string spot with a strong showing at Camp Cochise, Babers said.
Running backs
The talk about this area centers around Canidate, who led the Pacific 10 Conference with 1,220 yards rushing last season.
But Canidate's most amazing number is his average yardage of 51.7 yards for each of his 15 career touchdown runs.
"It's great to hand off to him because he takes the pressure off the quarterback," Smith said. "It gives us a balance on offense, so we can mix it up 50/50."
Jenkins had similar feelings about the man he'll hand off to for much of the game.
"He's a strong running back with a powerful running style and great cutting ability," Jenkins said. "He's like a missile."
Figuring out the reserves and the blocking backs has been the main challenge for the coaching staff going into the season.
Canidate said he feels confident in the players who will give him a break every now and then.
"We've got the naturals in Leon Callen, he's coming back," he said. "But the most impressive, and who just busted his butt, and did everything asked of him was the freshman coming in, Larry Croom. Leo Mills was right there until his shoulder went down, but that's just the nature of the sport."
Callen may have to sit out the opening game because of academic concerns, which leaves Mills as Canidate's primary backup. Mills was a Parade All-American in high school, but redshirted last year to concentrate on academics.
UA running backs coach Jeff Woodruff said things are "up in the air right now," as to what roles those two players and freshmen Lance Briggs and Croom will have for the whole season.
Briggs, a 6-foot-1, 223-pound bruiser, may see time in the role departed senior Kelvin Eafon had last year as Arizona's short-yardage back.
"He's certainly got that body type," Woodruff said. "He did that in high school very well. We've put him in a couple situations, but he's had maybe totally four games of practice at running back for us."
As for the blocking backs, the Wildcats will look to senior Jim Wendler, who earned another year of eligibility from the NCAA for a medical hardship, converted defenders Eli Wnek and Dolphin Tillman and redshirt sophomore William Blocker.
Tillman has been slowed by illness and Blocker has a strained hamstring, meaning Wendler may see the majority of time at the H-back/fullback position this year.
"I think we're going to be good, (but) I'm not sure," Babers said of the H-back/fullback situation, adding that Wendler's return is important. "That was a big plus, he gives us somebody that's been in football games back there."
Wide receivers
The Wildcats' receiving corps goes into the season a little banged up.
Senior Dennis Northcutt had a sore knee and groin and senior Brad Brennan pulled his hamstring. They are the only two receivers back with real game experience.
"That's what the coaches say, we have two veterans in Brad and Dennis, the rest of you are just returning players and newcomers," sophomore Malosi Leonard said.
Leonard, along with freshman Bobby Wade and junior Marvin Brown, will also see a lot of time this year.
"It's just a matter of getting them experience and seeing things, being able to react with game speed," receivers coach Rob Ianello said.
Babers said the receiving corps is behind when compared to the other parts of the offense.
"I think Dennis will be close to full speed," he said. "I don't know about Brad. He looks better, but we'll have to wait until (game time)."
Northcutt is only 22 receptions away from setting a new UA career record.
Brennan battled an ankle injury last year, but he still had 78 yards receiving and a touchdown in the Holiday Bowl filling in for the injured Jeremy McDaniel, who's moved on to the NFL.
As for the newcomers, Brown is a junior college transfer and Wade was the top prep running back in Arizona last season at Desert Vista (Phoenix) High School.
"He's (been) tremendous so far," Leonard said. "I've never seen anyone pick up the offense as fast as Bobby has, and he's obviously a tremendous physical talent."
Ianello said the biggest problem with Northcutt and Brennan missing part of Camp Cochise was in how the new players had no examples to learn from.
"You can coach off their routes, but there was none of that going on," Ianello said. "It was learn the hard way, we told them what to do rather than show them."
Tight ends
UA junior tight end Brandon Manumaleuna summed up this position quickly and concisely.
"We're not really too deep but we've got some good players at our position," he said.
After spending last year as current Dallas Cowboy Mike Lucky's backup, Manumaleuna will take over the starting job in 1999. Last year he caught only six passes for 22 yards, but the 6-2, 282 pound junior was a superb blocker.
"We're looking for him to assume the leadership role at that position," tight ends coach Pete Alamar said of Manumaleuna. "One of the things important for us, for the run game, is that the tight end has to win the point of attack for us. He's not doing something he's not done before."
Babers said the Wildcats will try to involve the tight ends more in the passing game.
"We'd like to work them in a lot, involve him a lot in the passing game," he said.
Backing up Manumaleuna will be redshirt freshman James Hugo.
"He's a good receiving tight end," Manumaleuna said of Hugo. "During the summer he worked on blocking, and that's an important part in our offense."
Alamar said Hugo is "coming along nicely," and Alamar thinks opening against the Nittany Lions will be a bonus for the UA tight ends.
"You know what, that's a great way to find out where you're at," he said. "We're looking forward to it, it's a neat challenge for us."