Penn State steamrolls Arizona 41-7

STATE COLLEGE, Penn. - The Arizona football team found out that preseason rankings mean nothing in a hurry.
No. 3 Penn State demolished No. 4 Arizona 41-7 in the Pigskin Classic Saturday at Beaver Stadium in State College, Penn.
"We just got our butts kicked," UA head coach Dick Tomey said. "They beat us as bad as a team can get beat. It was one of those games, it was a nightmare." Things were bad from the coin flip onward. Arizona (0-1) won the toss but deferred, and the Nittany Lions (1-0) proceeded to take the ball 80 yards in seven plays to go up 7-0 on quarterback Kevin Thompson's 37-yard pass to wide receiver Chafie Fields.
Fields was not done burning the Wildcats, as on the Lions' next possession, he took the ball 77 yards on a reverse that was nearly identical to a reverse that had gained 20 yards in the previous drive. Fields' second score put PSU up 14-0, and they didn't look back from there.
"We went up 14-0 (and) they were huffing and puffing," PSU fullback Mike Cerimele said. "You could see it in their eyes. All we needed to do was throw the knockout punch."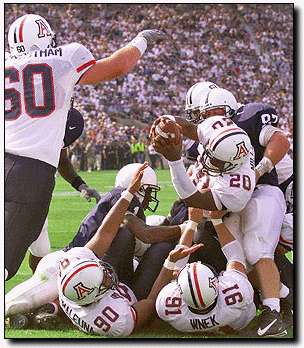 The Associated Press

Arizona's Leo Mills (20) scores from inches past Penn State's Brandon Steele (97) with 47 seconds left in the game Saturday in State College, Penn. Celebrating at left is A. Higginbotham (60). On the ground are Wildcats B. Manumaleuna (90) and Eli Wnek (91).

And while Arizona was able to stop the Lions' next drive - largely thanks to a fumble by PSU quarterback Rashard Casey - the Wildcats couldn't score against the Lions' suffocating defense.

"(Their defense) did a lot of talking coming into this game. Give them credit, they did what they said they were going to," UA senior running back Trung Canidate said. "They didn't do anything that we hadn't seen on film; we just couldn't stop them."

After a field goal made it 17-0, the death knell for Arizona came when PSU quarterback Kevin Thompson nailed tailback Larry Johnson for a 60-yard scoring strike, putting them up 24-0.

All the Wildcats could eventually muster was a 1-yard touchdown run by redshirt freshman Leo Mills with 1:33 left in the fourth quarter.

"We just have to regroup and move on to our next game," UA junior linebacker Antonio Pierce said. "We didn't play Wildcat football today. We have something to prove against TCU."

Arizona Daily Wildcat sports reporter Chris Jackson, who reported from Penn State University in State College, Penn., can be reached at Chris.Jackson@wildcat.arizona.edu

Letters to the editor about the Arizona-Penn State game can be sent via e-mail to editor@wildcat.arizona.edu or faxed to (520) 626-8303.