Community divisions caused by prejudice, speaker says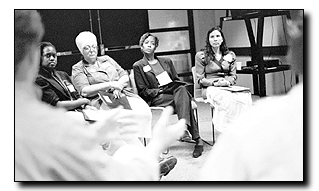 Joshua D. Trujillo
Arizona Daily Wildcat
Library assistant Sandra Joy (from right), Director of Student Enrichment Programs Rhonda Moses, women's studies graduate student Sat Bir Kaur Khalsa and education junior Venita Clark discuss religious and racial diversity issues during the UA Diversity Action Council's annual summit on Saturday. The group brainstormed ideas to improve diversity on the UA campus.
Heterosexuality, prejudice and racism can all lead to community problems, which result in racially and sexually divided communities on and off university campuses, said the keynote speaker at a UA diversity summit Saturday.
"Some defensivenesses have been justified, and we have to deal with it (and) try to put our defensiveness down so we can encourage growth and understanding," said Jesus Trevino, director of the Intergroup Relations Center at Arizona State University.
The UA's Diversity Action Council presented Trevino as this year's keynote speaker to an assembly of about 100 people in its annual summit, "Liking Our UA Communities," in the Memorial Student Union.
The six-hour summit, which featured speakers and small discussion groups, emphasized areas of potential improvement in all communities - particularly college communities - that must be modified to enhance cultural diversity.
"(Teaching about) individual (ethnic) groups is a starting point but leaving them there would be offensive," said Diane Wiener, a comparative cultural and literary studies graduate student.
Wiener said educators are making a positive effort when teaching about minority groups, but it is done in a "stage of development" that singles out each individual group instead of putting them in the model of the course.
Julia T. Balen, associate director of the UA Women's Studies department, said educators often make the mistake of asking a student to represent their entire ethnic group. This, she said, generalizes the group and can also silence the student.
"Minority students are then marked with a difference but, actively, they can only speak from their own experiences," Balen said. Making a student represent their entire culture "implies all people in that group are the same - it's not common sense."
The majority of the people at the summit said they thought it is possible to change some of the problems frequently seen on college campuses, but the effort must be collective.
"The provost, chief academic officer and all the faculty are key to what happens at the university," said Saundra Taylor, vice president for UA Campus Life. "If we look at the president to run the whole institution, we look at the provost to run the re-examination of these issues."
Taylor, who said she was not criticizing the provost, said "this is a call to attention of some of the issues on campus. ...We're taking it to another level."
When the conference broke into smaller groups, participants offered solutions that included broader racial and cultural education, collaborative efforts made by all groups and an effort to create allies between those communities.
"The whole thing that (Trevino) talked about is changing discourse to action - move it to initiative ... especially to students," said Taylor. "You've got to name the problem then get people outside of not knowing what the real problem is."