'House on Haunted Hill' tops weekend box office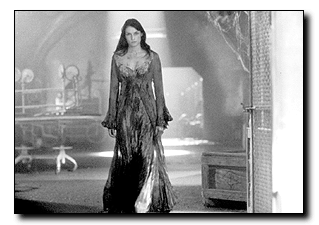 Arizona Daily Wildcat
Photo Courtesy of Warner Bros. In "House on Haunted Hill," this weekend's top grosser at the box office, Famke Janssen plays Evelyn, the spoiled wife of a theme-park mogul in this big budget thriller. If the guests at her birthday party can survive a night in the house they will each earn $1 million.
Associated Press
LOS ANGELES - The glitzy and gory "House on Haunted Hill" trick-or-treated its way to the top of the weekend box office, debuting with $15.1 million, according to industry estimates yesterday.
The fright film, starring Geoffrey Rush, Famke Janssen and plenty of blood and digital wizardry, had a chilling effect on other movies, which trailed far behind. Last weekend's top movie, "The Best Man," came in at No. 2 with $6.5 million.
The only other movie to open widely this weekend was "Music of the Heart," starring Meryl Streep in the autobiographical story of Roberta Guaspari, who started a violin program for poor children in East Harlem, N.Y. "Music of the Heart" debuted at No. 5 with $3.7 million playing in 1,349 theaters, about half as many as "House on Haunted Hill."
"Double Jeopardy" slipped one spot to third place, taking in $5.4 million. The top moneymaker so far among fall releases, "Double Jeopardy," has grossed $98.3 million in just over five weeks.
The critically acclaimed "American Beauty," though dropping $1.3 million from last weekend, actually climbed two spots in the rankings to No. 4. The film took in $3.9 million this weekend, raising its total gross to $54.2 million in seven weeks.
The special-effects-laden "House on Haunted Hill" is a remake of director William Castle's campy classic from 1958, which starred Vincent Price. The film centers on a group of people who are offered $1 million each to spend a night in a haunted house.
The new version received generally poor reviews reminiscent of last summer's high-tech ghost story, "The Haunting."
"It was not meant to be an Academy Award contender, but it's the perfect movie for Halloween weekend," said Robert Bucksbaum, a movie analyst for Reel Source Inc.
Shot on a relatively low budget of $15 million, the movie grossed its basic production costs in a single weekend.
Two films that opened in limited release this weekend posted strong numbers. "Being John Malkovich," the bizarre tale of a puppeteer who finds a portal into actor Malkovich's mind, took in about $650,000 playing in 25 theaters, averaging around $26,000 a screen, according to a survey of theater chains by Reel Source.
The movie stars John Cusack, Cameron Diaz and Malkovich playing himself.
"Princess Mononoke," an animated blockbuster in Japan, grossed $140,000 on eight screens, averaging about $17,500 a theater. The U.S. version features the voices of Billy Crudup, Claire Danes, Minnie Driver and Billy Bob Thornton.
Estimated ticket sales for Friday through Sunday at North American theaters, according to Exhibitor Relations. Final figures were to be released Monday.
1. "House on Haunted Hill," $15.1 million.
2. "The Best Man," $6.5 million.
3. "Double Jeopardy," $5.4 million.
4. "American Beauty," $3.9 million.
5. "Music of the Heart," $3.7 million.
6. "Bringing Out the Dead," $3.5 million.
7. "Fight Club," $3.3 million.
8. "The Sixth Sense," $3.2 million.
9. "The Story of Us," $3 million.
10. "Three Kings," $2.5 million.