A complete win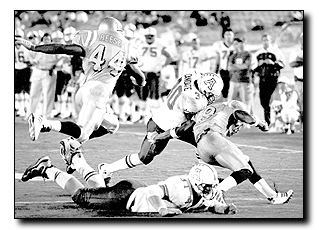 Matt Heistand
Arizona Daily Wildcat
Senior running back Trung Canidate lowers his shoulder and runs over UCLA's freshman cornerback Ricky Manning, Jr. while UCLA freshman outside linebacker Marcus Reese leaps through the air and UA's sophomore H-back Eli Wnek lays on the ground. Canidate rushed for 148 yards and two touchdowns on 25 carries as UA coasted 33-7 over the Bruins.
PASADENA, Calif. - The patient has a pulse.
A week after looking dead and defeated, the Arizona Wildcats (6-3 overall, 3-2 Pacific 10 Conference) put together a complete game offensively, defensively and on special teams on Saturday night.
Together, all the aspects of the Wildcats crushed the UCLA Bruins (3-6, 1-5) 33-7 at the Rose Bowl in Pasadena, Calif.
"In all phases, (we) probably played a little better," UA head coach Dick Tomey said. "I thought when we played USC we played pretty well. We played well on the road. We've only lost one game on the road in two years. It's good for our guys, we've got so many guys from L.A. It's good to play well."
For the first time since 1990, Arizona won in Los Angeles. This was also the first UA sweep of the L.A. schools since that same year the Wildcats defeated Southern Cal at home 31-24 on Oct. 9. The key to Arizona's shutting down of the Bruins' offense was its ability to stop the run.
"We came out and made them one-dimensional," UA senior linebacker Marcus Bell said after UCLA had -31 rushing yards. "We shut down the run, and they didn't have a running game. That's what it takes. Our D-linemen did a great job; they dominated the line of scrimmage. It was our day to make plays, and we did that."
For the Wildcats on offense, the game started out slowly, but soon the UA offensive line was copying the UA defensive line's control of the game. That was especially apparent in the second half when the Wildcats had only five passing plays.
"The offensive line, they asserted themselves," UA senior running back Trung Canidate said. "They came out and let us know we needed to get this running game going.
"We did a good job of controlling the football, of moving the football down the field," he said. "It was great to see. We passed the ball well in the first half, but it was great to see our offensive line come out in the second half and run the ball effectively."
All told, Arizona had 281 yards passing and 307 yards rushing, its fourth straight game of over 500 yards on offense. With the UA defense limiting the Bruins to 234 total yards of offense, the Wildcats from the L.A. area were wearing big smiles after the game.
"I've never won here, I've never won here at all," Smith said. "I've never won in Southern California period. I mean, this is my senior year, this is my last shot here. So I wanted to make it worthwhile. I was glad our offense played a good, solid game, running the ball and throwing the ball."
UA senior wide receiver Dennis Northcutt (7 receptions, 121 yards) had the largest cheering section of any local player.
"I think that's the first time I've really got to play in front of all my family all together," he said. "It was special. It was more special than coming here and just beating UCLA, winning in L.A. Just being able to win in L.A. and them being able to watch me."
The first half of the game started badly when UCLA opened the scoring. Bruin wide receiver Brad Melsby slipped past UA senior cornerback Kelvin Hunter and caught a Cory Paus pass for a 44-yard touchdown.
But the Wildcats came back quickly, with Keel nailing his first field goal from 31 yards, and Canidate taking a plunge from three yards out to put Arizona up 10-7.
Then the UA defense began to take over.
"I thought they'd come back with a little fire in them after that loss (55-7 at Oregon State) they took last week," UA senior linebacker DaShon Polk said. "But after a while you can tell they felt they had no chance. We dominated the line of scrimmage. To stop the run you first have to control the line of scrimmage."
On the Wildcats' next drive Smith found sophomore tight end Brandon Manumaleuna over the middle for the score, followed by Keel's second field goal from 33 yards, capping the first half scoring with UA up 20-7. In the end, Arizona avenged its only loss from 1998 and exorcised the demons of last week's loss to Oregon.
"I think so many little things in our game last week, the kicker's situation, offensive problems, defensive problems, I was glad to see us bounce back tonight," Smith said. "There are so many guys from California that wanted this game so bad. Especially from last year's game, we just wanted to play a good, solid 60 minutes."