UA to begin offering online summer school classes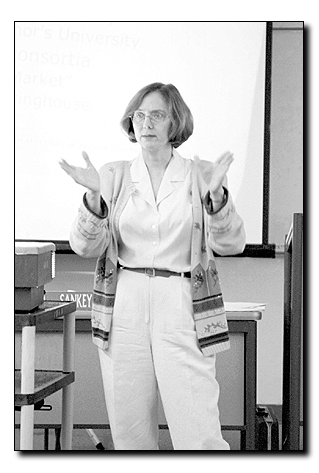 Aaron Farnsworth
Arizona Daily Wildcat
Faculty Associate for Distributed Learning Sally Jackson, presents possibilities for a virtual university which includes upgrading to online classes at the Faculty/Senate meeting yesterday. Many UA courses are already partly online, and the option to make classes completely online is up to the individual professors.
Some UA students enrolled in summer session courses won't have to brave triple-digit temperatures next year.
In fact, they won't have to go outside at all.
The University of Arizona will offer 10 summer session classes completely online in 2000, said Sally Jackson, UA's faculty associate for distributed learning.
"We have never before offered undergraduate courses without some campus connection," Jackson said. "This will be a new experience."
The courses will consist mainly of upper division courses in large enrollment majors as well as a few general education courses in natural sciences, Jackson said.
Jackson presented the summer learning network and the possibilities of online degrees at yesterday's faculty senate meeting.
"It's really a student-centered initiative," Jackson said. "It seems extremely beneficial to be able to provide a way for students to complete their degrees online."
She added that the students' performance and location will be studied in order to determine the validity of online learning.
Jackson said about 20 percent of fall semester courses use some kind of web enhancement, and about 24 courses are online-centered, since the UA does not restrict instructors from making Internet sections.
"There are no bureaucratic barriers between doing it and not doing it," she said.
Online instructors also face the problem of academic honesty during exams, Jackson said.
"You can't completely keep cheating from happening," she added.
Jackson also discussed a joint project with Arizona State University and Northern Arizona University that will create a database allowing students to take classes at all three state universities.
The website will be working by January, but students shouldn't be alarmed by the increasing number of online courses, she said.
"We need it for important residential education experiences," Jackson said. "We can decide we want a certain number of online courses without making the decision to go virtual."
But many faculty senators were concerned with the idea that UA may someday offer online degrees.
Charlie Hurt, acting dean of the College of Social and Behavioral Sciences, said although online courses have been successful in information technology fields, he isn't sure it will be universally fruitful.
"It may or may not be a good example to use for history or sociology," he said.
Jackson said she has been asked by UA President Peter Likins, NAU President Clara Lovett and ASU President Lattie Coor to look into the possibility of offering an online Arizona degree.
"It's an interesting proposition we should spend a lot of time thinking about," Jackson said. "I'm not advocating for or against it at this point ... the first thing we have to do is reach the point where it becomes possible."
UA surgery professor Marlys Witte said faculty members need to be included in decisions about online courses and degrees.
"You have a lot of decisions to be made," Witte said. "Certainly the faculty has to be a part of that, not just for input but for the final decision."
Others worried about the effect of online education on undergraduate students.
"Undergraduate education ... is maturing and developing as a person," said Tom Davis, pharmacology professor. "A majority of the education is in the dorm."