Termite TV makes a stop in Tucson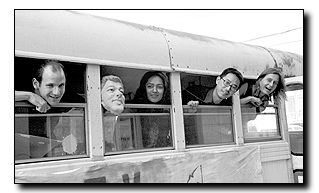 Randy Metcalf
Arizona Daily Wildcat
The members of Termite TV (from left) Michael Kuetemeyer (holding Bill Clinton mask), Anula Shetty, Carl Lee and Dorothea Braemer stick their heads out the window of their 1960s bus yesterday in front of Access Tucson. Termite TV is in the process of touring the United States and filming an alternative perspective to the world.
NBC will never air "The Concept of a Triangle" in its Thursday night lineup. That's because "Concept" is an experimental, untraditional documentary that doesn't star Courtney Cox and is made by a roving group of documentary video makers called Termite TV.
Termite TV, based out of Philadelphia, is a traveling group of four members: Dorothea Braemer, Michael Kuetemeyer, Carl Lee and Anula Shetty. They met in the M.F.A. program in Film and Media Arts at Temple University and are now journeying across the country in a converted 1960s school bus.
Their goal is to produce video documentaries in collaboration with local artists, media persons and residents, as part of their "Living Documentary Series." The series, when finished, will be composed of 10 documentaries that will examine the North American experience at the end of the millennium. They will take a closer look at the people of this country living at the cusp of a millennium in order to imagine the future and reassess the past.
These documentaries are truly unique works of video production, so much that the term "documentary" fails to encompass what they are. Termite TV plays with the conventions of typical television and documentary techniques, creating works that give foreground to the behind-the-scenes elements (composition, editing) that standard television works to hide.
Comparing the group's style to that of television news programs, Termite TV member Anula Shetty says, "The content (of the news programs) must be fitted to the structure of the show. For us, content determines how we edit. It is not a predetermined structure."
Termite TV represents an independent voice in video production today, a stark contrast to the uniformity of mainstream television.
"The work of the Termite TV Video Collective is different from mainstream TV in the perspective that the termites bring to their material and the ways they include people whose 'voices' are seldom heard on mainstream television. It is very rare to hear teenagers, minorities, older people, poor people, present their ideas, in their own words. Termite TV videos provide a counterbalance, a way for viewers to hear voices and perspectives that run counter to the 'official story,'" says Assistant Professor of Media Arts Michael Mulcahy.
Termite member Dorothea Braemer recognizes the uniformity of mainstream TV. "The big problem is that all of television is owned by seven companies. Fewer voices are being heard, considering the goals and the potential of television as a forum for an exchange of ideas in a democratic society."
The group's name is emblematic of their philosophy. It is derived from "White Elephant Art vs. Termite Art," a treatise by critic/artist Manny Farber about making art with rough edges, in which Farber states, "A peculiar fact about termite-tapeworm-fungus-moss art is that it leaves nothing in its path but evidence of eager, industrious, unkempt activity." This speaks to the group's spontaneous, subversive style of video making.
Each project revolves around a particular theme that may arise out of current events or may just be something that interests the video makers. For the "Living Documentary Series," the group has selected 10 topics, including war/violence, relativity, beauty and forgotten cities. Once each theme is established, the four members are free to take their own spin on it, culminating in a half-hour program that presents a large variety of voices from themselves and outside contributors.
Termite TV is not always so organized in its production as this, however. The "Life Stories from Sitka, Alaska" that the group exhibited last night was a project that just grew out of their experience on the road. They give people five minutes, with no direction or interference, in front of a camera to tell their life story. The resulting narratives are then combined into a single work. Tucson citizens will have the same opportunity to tell their own life stories today from 2-6 p.m. at Access Tucson, 124 E. Broadway Blvd.