Resigning UAPD chief to leave a void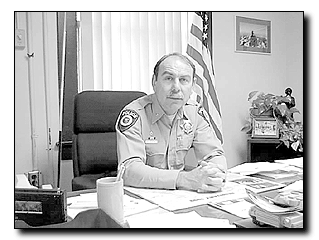 Arizona Daily Wildcat
Photo courtesy of UAPD University of Arizona Chief of Police Harry Hueston II, pictured here behind his desk, announced his resignation last Friday, effective June 30. Hueston has served UAPD for 15 years, the last two as chief.
On June 30 next year, the UAPD will swear in a new chief of police.
On that same day, current University of Arizona Chief of Police Harry Hueston II will turn in his badge after 15 years of service.
As Hueston moves on, the university is now faced with the task of replacing not only a chief of police, but a university leader who can deal with public safety in an educational environment.
Julius Parker, UAPD associate vice president for business affairs, said finding a replacement is a lengthy process. The UA will miss Hueston, but security and life on campus shouldn't change drastically, Parker said.
"Finding a replacement for chief of police really is no different than filling say, a vice president's position," Parker said. "But it is a long ordeal, and we want to find a competent, qualified candidate for the spot. After we find our new chief, we don't think we will miss a beat."
Parker said he knows that Hueston will be missed, but also knows finding a suitable replacement is important.
"Obviously, we will start with a national search for a new chief," Parker said. "We will advertise in such publications as The Wall Street Journal and the Chronicle of Higher Education. We are looking for someone with experience, but we won't turn down someone who has the qualifications and ability."
Parker said a search committee will be formed soon that will include UA administrators, faculty, employees and hopefully students.
"I really hope the students will get involved with our search," Parker said. "This is an important position at the UA, and students are directly affected by security and enforcement by the UAPD. I hope there is an eager willingness from students to help out."
Administration officials plan to use the search committee to find several candidates for the job through applications, then narrow the group to just a few individuals.
The UA will then bring the candidates to campus for a battery of interviews from faculty and staff, and then expose them to an open forum.
"We want to do everything we can to learn about our possible new chief of police," Parker said. "We want to find an individual who can take charge of managing a police department and provide security to keep the campus safe and provide an environment for the educational process to flourish."
After the interviews and open forum, three finalists will be selected. From there, more interviews will determine the UA's new chief of police.
As for Hueston, who is on vacation this week and unavailable for comment, only he knows his future.
Hueston announced his resignation Friday in a media release after two years as chief of police and 12 years as assistant chief of police, but gave no indication of what he might do when his UAPD service ends.
But he stated he wanted to give the university plenty of time for a "thoughtful search and a smooth transition to new leadership."
Sgt. Mike Smith, UAPD spokesman, said Hueston's absence will be noticed by everyone on campus, but he is pleased that he is moving on.
"He has his doctorate degree, and that is impressive," Smith said. "He is someone who has made it to that level where he can't do any more. There must be another challenge somewhere. I wish him the best of luck."
Cmdr. Samuel Ragland, who has worked with Hueston off and on since 1985, said he isn't worried about the transition, since he has been through it before.
"I have seen four police chiefs here," Ragland said. "Life will go on."
But Hueston will not be forgotten.
UA President Peter Likins stated in the release that Hueston has a unique sense of how law enforcement on a college campus differs from that in a more traditional department.
"He has my deep respect," Likins said.