Have bike, make bank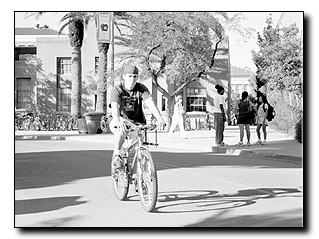 Aaron Farnsworth
Arizona Daily Wildcat
MIS senior Phil Weiland rides past Old Main yesterday on his bike. Phil is a bicycle courier for the Biochemistry department delivering mail between offices.
These are only so many jobs possible while sitting atop a bike:
-Paperboy.
-P.R. man for the Hell's Angels.
-Ringling Bros./Barnum & Bailey motorcycle cage performer.
-UA Biochemistry mail carrier.
Senior Phil Weiland chose the last one two years ago. Ever since then, he's been a bike-riding, mail-toting maniac, and getting paid all the while.
For three days each week, Weiland is just like Kevin Costner in the 1998 movie "The Postman." Only Weiland delivers mail across the UA campus, not the west coast of the United States in a post-apocalyptic wasteland. And Weiland probably won't have to challenge the leader of an entire army of rogues once his mail-delivering career comes to an end.
But they both do deliver mail. And both do it well.
Weiland's rides begin at the Biological Sciences West building each day, where he picks up a load of mail meant to be distributed to various other places on campus.
There are two other couriers on campus that serve the same role as Weiland, and they all belong to Phi Delta Theta.
The Biochemistry department has long held a connection with the fraternity.
"They just really like us. They ask us whenever there's an opening," said Weiland, who heard about the job from one of his best friends who worked the route before he graduated.
"One of my other best friends used to have this job, and he's 30."
Weiland weaves in and out of danger as he delivers the mail as far north as East Speedway Boulevard. He usually makes about six loops throughout campus, traveling about seven miles in an eight-hour span.
"I like it. There's no one watching over you all the time. You're just out there by yourself," Weiland said. "It also gets you in pretty good shape."
Weiland doesn't plan on making a career in bicycle mail delivery. He plans on graduating in May, at which time he'll turn the reins over to one of his Phi Delta Theta brothers. At that point, Weiland wants to go onto bigger things. He'll figuratively ride off into the sunset.