UA student dukes it out on national TV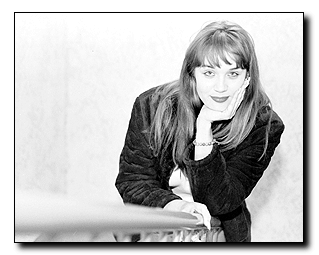 Joshua D. Trujillo
Arizona Daily Wildcat
Sharon, a UA arts sophomore who asked that her last name be protected, was a featured guest on the "Jerry Springer Show" last Wednesday. She said the show is not staged, but steered by producers.
An all-expenses paid trip to Chicago, complete with wardrobe and a posh hotel suite, isn't the latest offering for scoring a tic-tac-toe on "Hollywood Squares." But it is if somebody steals her friend's boyfriend, and producers from the "Jerry Springer Show" catch word of it.
"It happened so fast - I was on 'Jerry Springer,'" said UA art sophomore Sharon, who, though she appeared on the national television show and used her real first name, wanted to protect her last name.
The episode, which aired last Wednesday, had a Springer-esque topic: "You're Sleeping With My Boyfriend."
Though Sharon acknowledged dating the former boyfriend of her friend, Vikki, she said there was never any hostility between the two women.
"It wasn't a huge thing," Sharon said.
Still, a few mischievous friends called the fight-and-expletive-filled show as a joke and nominated her as a potential guest. When the producers contacted Sharon, she told them she was not interested, but when her friends dared her to appear on the show, she decided to make the trip.
"They just thought they were all spunky and cool, 'let's do this to Sharon,'" she said.
Sharon, who had often joked about becoming a talk show guest, suddenly found her own words coming true.
"I wasn't thinking 'Springer,' but I made it," she said. "It was really cool. I'd do it over again if I could."
The exaggerated fighting seen on the show, Sharon said, is not staged. In the presence of lawyers, all participants sign a contract swearing to be truthful, she said.
"We know it's true," Sharon said. "The people on the show are real - they're not fake."
However, Springer's assistants work to ensure the fiery conflicts that brought the guests to the studio do not die down, keeping up the mood of the show.
During her day of filming, Sharon and other guests were sequestered in separate green rooms from their nemeses. Though they could not hear what was being said about them on-stage, producers would visit the rooms regularly to report some of the insults and accusations being said before the cameras.
"They plant the seed in you to get really, really worked up," she said. "So then you get out there, and you're really mad and nervous."
The adrenaline drove Sharon to launch a verbal attack and a fist-fight against Vikki, as well as audience members, who also seemed ready for a fight. The kindest word thrown at her from the audience was "trash."
"If you could have heard the things they called me," Sharon said. "Every girl in the audience had something to say, but I had good comebacks."
Since she has returned to Tucson, Sharon and Vikki have resolved all differences.
"I wasn't that mad about it, and neither was my friend," she said.
Well-meaning friends have provided Sharon with countless tapes of the show, and strangers recognize her when she goes out.
"I go to bars and people are like, 'Springer! Springer!'" she said.
However, Sharon said she enjoyed her experience. She said the entire staff was pleasant and hard-working.
As for the host, Sharon smiled and said, "He's kind of a flirt."
"I love it (the show)," Sharon said. "I watch it more now. Now I know what's up, what's the real deal with 'Springer' - it's even funnier now."
Appearing on one of the nation's most infamous talk shows is not the typical claim to fame, Sharon said. "It's something crazy - how many people can say they were on 'Jerry Springer?' Everyone gets their 15 minutes of fame, and that was mine."