Confidence lacks in 'House on Haunted Hill'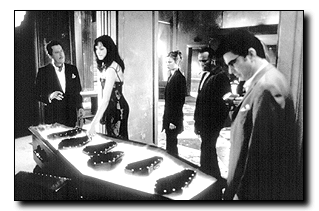 Arizona Daily Wildcat
Photo Courtesy of Warner Bros. Pictures Geoffrey Rush, Famke Janssen, Ali Larter, Taye Diggs and Peter Gallagher star in "House on Haunted Hill." The Warner Bros. picture was number one in the box office last weekend.
"The House on Haunted Hill" is a mixed bag of tricks.
A lot of time and energy were spent making this movie a scary experience for the audience - and scary it is. Unfortunately, some of the most disturbing parts were obviously created unintentionally.
Haunted Hill's first big trick was to dupe Academy Award winner Geoffrey Rush ("Shine") into taking the lead role. Rush's credits include a list of awards and nominations from some of the most prestigious film organizations in the nation. Rush is a man who gets to pick and choose films in which to star.
Even director William Malone stated that he always wanted Rush for his lead actor, but he "never thought in a million years" that they would actually get him in the movie.
They got him, but the damage had been done - the amount of confidence they had in their script shone through in their doubt that a well-trained actor would ever stoop to appearing in it.
The selling of the script must have been another clever little trick. How did screenwriter Dick Beebe ever get his script read by a producer, much less bought? It couldn't have been through his resume.
Beebe's most notable mentions include television's "The Jan Kemp Story," "New Chicks," "Only the Lonely - the Roy Orbison Story" and the ABC Movie of the Week "Dead and Alive." His feature movie credits list him as having been involved in the script revision processes of "U.S. Marshals" and "The Net" - two of the most notable flops this decade.
Beebe's inexperience is glaringly evident. The movie is about a rich, eccentric thrill ride creator named Price (played by Rush) who organizes a spooky birthday party for his wife. As displayed in the opening scenes, Price prides himself on his ability to conjure up life-like scenarios that bring his participants close to what they think is their own death.
So naturally, he arranges for the party to unfold in an old abandoned mental hospital where, many years ago, all the occupants - save five - were murdered. Naturally, Price invites five friends to come and stay in this haunted hospital and adds in a $1 million prize for those who live through the night.
Mysteriously, his computer is hacked into, and the names of the invitees are changed into those of five strangers. They all get locked inside the spooky hospital, and the ghosts and "darkness" that haunt the place enact their revenge.
There are some scary effects in this movie - especially in the opening at Price's amusement park. For the most part they are original ideas and are executed pretty well. But when a "big joke" comes from the hero saying "That's the most fun I've had all day," and the heroine bantering back, "You must not get out much," the movie cannot be good.
But the fault does not lie solely with Mr. Beebe. Director Malone also has a hand in this. His inexperience is also seen through the movie and his resume.
The director's biography reads that Malone "is well on his way to becoming an in-demand writer-director." This is another one of the movie's subtle little tricks.
On first read, it sounds like he is becoming a hot item in Hollywood. But actually, he is only "on his way" to "becoming" someone people want to see.
As it stands now, he has directed the blockbusters "Scared to Death," and "Creature," and has helped numerous episodes of "N.Y. Undercover" and "Honey, I Shrunk the Kids."
That this movie was actually made is an unbelievable feat of magic. But perhaps that is the point. Maybe the film itself is a large joke played on the audience, and it was intentionally made poorly just like one of Price's amusement park rides.
At least that's what they can tell themselves.