UA soccer team ends season at its best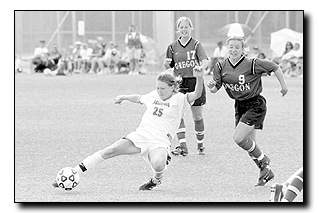 Ian C. Mayer
Arizona Daily Wildcat
Junior forward Chrissy Sanford slides for the ball in the Wildcats 0-0 double overtime tie with Oregon, yesterday. The Wildcats finished their season 7-10-2 overall and 1-7-1 in the Pac-10.
If only the season didn't have to end this past weekend, as the UA women's soccer team finished playing the best it has all year.
The Wildcats (7-10-2 overall, 1-7-1 Pacific 10 Conference) beat Oregon State Friday night 4-1 and held Oregon to a 0-0 double overtime tie yesterday afternoon to make sure their season ended successfully.
"It's like we're finally coming together and the season's over," junior forward Chrissy Sanford said. "We're finally taking responsibility in coming together, it's just a shame that this is the last game of the season."
Sanford left her mark Friday night as she scored on a breakaway goal, tying ex-Wildcat Christine Keeley for most goals in a season (11) and total points (27).
Sanford was overshadowed, however, in the game against Oregon State (8-11-1 overall, 1-8-0 Pac-10) by sophomore forward Kristi Lorona, who scored three times.
Lorona became the fourth player in school history to record a hat trick, two of the goals coming on breakaways and one on an assist by sophomore forward Kim McGehee.
The four goals made life in the net easy for junior goalkeeper Inger Airheart, who had 10 saves.
"We got an offensive explosion on Friday, that was great," Airheart said. "The other keeper for OSU (Elizabeth Peace) was even like 'you guys finished every opportunity.' It was really good."
Airheart's stellar goalkeeping continued Sunday as the Wildcats shined defensively in the 0-0 tie.
"I mean this team beat UCLA and we just tied them and that's just phenomenal for us, we're excited," Sanford said. "I am very proud the way we played defensively."
Even though the Ducks (7-11-1 overall, 3-5-1 Pac-10) outshot the Wildcats 27-16, the defense held fast and played extremely well as a unit.
Airheart made a career high 11 saves and kept the game scoreless even though the game went to double overtime, 120-minutes total.
"Defensively we were really organized, there's a lot of communication," junior defender Brooke McManus said. "We just got it together as a team."
Ending the season on a positive note was important to the Wildcats as they had struggled in recent weeks, especially in Pac-10 play.
"I thought we did awesome this weekend, we had really high intensity... we pretty much played with heart," sophomore forward Tiffany Sabado said. "I think it is the best feeling ever."