Inside out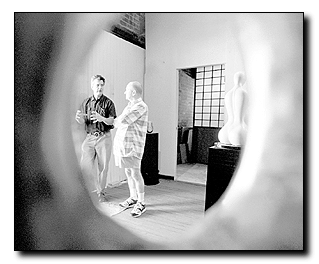 Joshua D. Trujillo
Arizona Daily Wildcat
Artist Ed Davenport (left) explains his marble and stone sculptures to Tucson resident Dick Dennis at Ouroboros Stone Sculpture Gallery downtown on Sunday. Downtown artists welcomed the public into their workspaces this weekend during the Open Studios Tour event sponsored by the Tucson Arts District. The two are seen through Davenport's salt river marble sculpture titled "Chrysalis."
an artist's studio is their home away from home. It's a place for inspiration, brainstorming and creation - it is the place where an idea for a great work of art is transformed into a piece artists can call their own.
This past weekend's Open Studio Tour, sponsored by the Tucson Arts District, allowed community members to walk through the rooms where this magic takes place. Forty one different studios in the Tucson area opened their doors to display art ranging from watercolors to woodworking.
A map provided by the Tucson Arts District allowed visitors to navigate their way to the studios that caught their interest.
"Sometimes they talk to you and sometimes they just look," mixed media artist Laura LaFave said.
LaFave said she enjoyed the chance to share her pieces with members of the community.
Her work, however, is not the only thing she shares. LaFave's studio, located in the Steinfeld Warehouse at 101 W. Sixth St., is a space she shares with several mixed-media artists.
LaFave said that although it is a rare occasion to find all nine artists at work at the same time, she likes the environment.
"The idea of being around other artists feels good," she said.
One such artist is Ellen McMahon. Her studio space is next to LaFave's and she is also a mixed media artist. McMahon's career teaching graphic design at the University of Arizona allows her to see her second job as an artist as a vision all her own.
She chooses subject matter that is important to her, which is a portrayal of her experiences juggling the responsibilities of a mother, a teacher and an artist.
"My intent is to discover the visual form that most directly expresses my particular experience," McMahon writes about her work.
Whether it be through the medium of drawing, photography or digital graphics, McMahon's work is united in its message about the "overwhelming and simultaneous feelings of intimacy and longing, satisfaction and emptiness" that come out of motherhood.
It is McMahon's mission to draw from techniques of graphic design and use them to display content that is all her own.
"I come from the intention to communicate a message," she said.
The Open Studio Tour provided McMahon with a good opportunity to do just that. As visitors wandered through her studios, she openly talked about the issues of motherhood which are addressed in her work.
"I like talking about these issues. My work is a jumping off point to talk about these issues," she said.