Set for success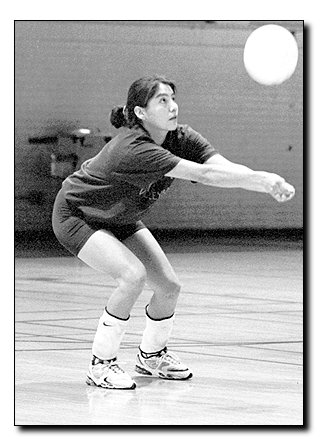 Aaron Farnsworth
Arizona Daily Wildcat
Junior defensive specialist Elvina Clark sets a ball during practice yesterday at Bear Down Gym. Clark, a member of the Navajo tribe, finds adjusting to college life and athletics very different from the small community she came from. She is a small celebrity and role model in her hometown of Kayenta, Ariz.
Elvina Clark tells the story well.
The 5-foot-6 defensive specialist was walking through a mall in Farmington, N.M. when a young child came up to her.
"She asked me, 'Are you Elvina Clark for the Arizona volleyball team?'" Clark said. "I was amazed that she knew who I was. It was then that I realized that I was sort of looked up to by other Native Americans."
Clark, a member of the Navajo (Dineh) tribe, is from tiny Kayenta, Ariz., where she played volleyball and ran track at Monument Valley High School. Kayenta has a population of 5,500 people.
"Elvina is a great, great kid," said Greg Wayne, the athletic director and track coach at Monument Valley. "The volleyball players especially look up to her as a kind of local celebrity. Our volleyball coach tracks her progress and passes it on to the players. She's a great role model."
Clark, a junior, joined the UA volleyball team two years ago as a walk-on when she impressed head coach David Rubio.
"We'll have anywhere from 10 to 20 players come out every year trying to walk on and very few prove they can help the team," he said. "Elvina was one of those players who had good instincts, was focused and played intense volleyball. I was impressed. I figured if she could endure our conditioning program, we'd have a spot for her."
After dislocating her elbow in a bicycle mishap a year ago, Clark is finally ready to inherit the defensive specialist position.
"I think last year was a very trying time for her," Rubio said. "She was wondering whether or not it was a sign from God. Dislocating an elbow is a hard thing to deal with and come back from, but she's playing really well."
Clark's brightest moment of her young career came a week ago against No. 11 Brigham Young, where she set a career high with eight digs.
"The BYU game was great for me," Clark said. "To play like I did against a ranked team was great for me as a player. I want to be the kind of person that can be relied on when needed, whether it's in volleyball or in other parts of life."
One of the reasons Clark is seen as such a great success story is in part because of her heritage. In the world of collegiate athletics, there are few Native American athletes.
"In my years of coaching, I have seen very few Native American Division I volleyball players, if any," Rubio said. "I can only imagine the pressure she is under having to carry the weight of the two cultures on her shoulders."
Moving from Kayenta to Tucson, which is nearly 10 times as big, brought with it a culture shock.
"The first thing I realized was exactly how big the campus is," Clark said. "Then I realized how few Native Americans I saw around campus. That was a big change for me."
Rubio is accepting of both cultures.
"She used to run every morning and have daily rituals," Rubio said. "We've had numerous long talks about the conflicts between volleyball and her way of life. Every player has a lifestyle based on their own values. Because she comes from a different culture, there are bound to be conflicts."
Wayne believes culture shock is a large reason why many Native Americans choose not to leave the reservation for college.
"You have to realize that Native Americans run into more failures than successes when they go to college," he said. "The way the Indian Affairs people set it up, a lot of people lost their identity. A lot of kids tend to stay rather than go to college."
Despite the culture clash, Wayne believes that Clark has been a great success story.
"Elvina has a strong family background and is a great example of what kind of people are coming out of the reservations today," he said. "This generation of kids are more adventurous than any I've seen so far. They have an easier time blending in on the college campuses. They're more confident that they can make a difference."
Clark attributes her daring attitude to a strong family background. Her mother, who is a substance abuse counselor on the reservation, and her grandmother are her role models.
"They've always encouraged me to follow my dreams and achieve my goals," she said. "Family and faith in my abilities are very important to me."
Clark, who is one of eight children, thinks that attending UA will set an example for her younger siblings.
"They come to me for help," she said. "I like to think I'm setting standards with dignity."
In the future, Clark would like to give back to the same community that she grew up in.
"I would like to go back to the reservation for awhile and be an ecologist," she said. "My Native American beliefs are tied to the earth. Ecology is a good way to follow those dreams."