Weathering the storm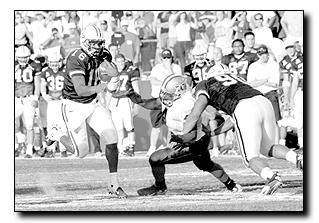 Nicholas Valenzuela
Arizona Daily Wildcat
UA junior quarterback Ortege Jenkins (16) breaks downfield thanks to a block from UA tight end Brandon Manumaleuna (90) last Saturday against Washington. Jenkins and the Wildcats need a win at Oregon State tomorrow night to clinch a winning season and a trip to a bowl game.
There's nothing like the weather the Arizona Wildcats are experiencing right now.
Ninety degrees and sunny in November is something that's almost unheard of, especially elsewhere in the country where autumn has come and gone and winter has begun.
The term sunny is almost never used at any point during the year up in Corvallis, Ore., which is the Wildcats' (6-4 overall, 3-3 Pacific 10 Conference) destination this weekend.
"We expect it's going to be bad (weather)," UA head coach Dick Tomey said. "But, to beat somebody in their weather, in their environment, I think it feels even better. We know there is going to be a tremendous energy in Corvallis."
Arizona faces Oregon State (6-3, 3-3) tomorrow night at 8:15 p.m. (Tucson time) in a must-win game for the Wildcats to clinch a winning season and a trip to a bowl game.
"It's the end of the year, we have to buckle down these last two games and go in here and try to get a win," junior quarterback Ortege Jenkins said. "It's going to be tough, we already know the situation. They've got a good offense, they've got a good defense. They've got a winning season. It's going to be a full house up there. It's going to be loud. It's going to be snowing or raining or whatever."
For the Wildcats to pull that off they must overcome a Beaver squad that clinched its first winning season in 29 years last Saturday against California.
OSU is ranked No. 1 in the Pac-10 in total defense, giving up only 339.6 yards per game.
"The first thing that is impressive about Oregon State is their defense," Tomey said. "In the last three or four weeks, they have been playing the best defense in our league. They play so hard, and they play with the reckless abandon that all good defenses play with. They have been tremendously impressive."
Arizona counters with the No. 2-ranked total offense with 469.5 yards per game.
But if the Wildcats know anything, it's that they haven't been able to take all those yards and translate them into points when they get down inside the 20-yard line.
"We're just not executing when we get down into the green zone," Jenkins said. "I think we just need to focus on executing plays when we're down in the green zone. We've got penalties in the green zone, we're not finding ways to beat defenses down in the green zone. We need to be a more effective team in the green zone. How we are going to do that, we've got to just do our plays and be more consistent with the play-calling we make."
Jenkins said he's not sure exactly what's causing the team's inability to execute when it matters the most.
"I really can't tell you," he said. "It's hard to see, we're out there, we're moving the ball, you wouldn't think it would stop when we get to a certain part of the field. We're preparing ourselves to make improvements in the green zone. We're getting down there too many times and not getting any points."
While the Wildcats have had problems scoring, the Beavers have not. OSU's offense is ranked third in the Pac-10 with 464.4 yards and 31.8 points per game.
Led by the tandem of quarterback Jonathan Smith, who leads the Pac-10 with 2,327 passing yards, and running back Ken Simonton, who leads the league with 124.1 yards rushing per game.
Last season against the Beavers the UA defense stepped up and shut down the Beavers. UA allowed only 21 yards rushing and 146 yards passing.
This year, though, the Beavers are the favorite, but that's not something that bothers the Wildcats.
"We play better being underdogs," junior linebacker Antonio Pierce said. "I think we like having teams sit there and think we're not good enough. It makes us play better.
"That's just the mentality of this team this year. We're just a better team under adversity. We're not good right now when we're on top of a pedestal, on top of everything. We need to be underneath, we need to be low-key."