Judge dismisses Miles Simon's suit against UA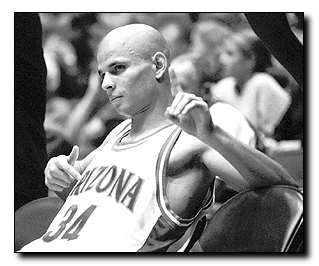 Wildcat File Photo
Arizona Daily Wildcat
Former UA basketball star Miles Simon, who was suing the University of Arizona and the Kansas City Star, had his $1 million lawsuit dismissed by a Pima County Superior Court judge on Oct. 25. The judge ruled that Simon cannot sue over the leak of his student records to the newspaper.
A $1 million lawsuit by former UA basketball star Miles Simon brought against the university was dismissed by a Pima County Superior Court judge.
Judge Stephen Villareal ruled Oct. 25 that Simon can't sue the school over the leak of his academic records to a newspaper.
The judge's ruling to toss the suit follows the dismissal of a similar $1 million claim in May that Simon filed in Los Angeles.
In both cases, the judges said Simon's claims of humiliation had no merit.
Simon filed the lawsuit in response to the Kansas City Star's Oct. 10, 1997 article, "MVP made grade only on the court," which alleged Simon received preferential treatment at the University of Arizona for playing basketball.
Defendants in the suit included the Arizona Board of Regents, Michael Gottfredson, University of Arizona vice president for undergraduate education and Laura Anderson, the university transcript supervisor.
Releasing a student's personal information, including grades or transcripts, is prohibited under the Family Educational Rights and Privacy Act of 1974. Simon's suit alleged that someone within the university illegally released his records.
In 1997, Simon was named MVP of the NCAA Final Four in which the Wildcats won the national championship over Kentucky. But he had been on academic probation almost his entire playing career, the Kansas City Star reported.
Simon, who could not be reached for comment, filed a claim in U.S. District Court in Los Angeles, his hometown, on Oct. 13, 1998. The Los Angeles case was dismissed May 17.
The claim he filed in Tucson on March 22 included allegations that the Arizona Board of Regents and the Kansas City Star "intentionally and negligently" caused him emotional distress.
Simon's court document stated he was "held up to public ridicule and his privacy was invaded and he was humiliated and made to suffer embarrassment."
The Kansas City Star, reporter Mike McGraw, publisher Arthur Brisbane and Knight Ridder Corp., the paper's parent company, are also named in the suit. Simon claims they violated his privacy, inflicted emotional distress and defamed him by publishing the article.
Simon's alleged injuries include inconvenience, insult, mental distress, embarrassment, humiliation, anxiety and emotional pain and suffering, according to the court document.
Simon was drafted by the NBA's Orlando Magic in the second round of the 1998 draft, but his first season was considered a washout as he went on the injured reserve list three times. He played a total of 15 minutes.
He is no longer with Orlando and is currently recovering from ligament damage in his right foot.