UA leases parking lots until new garages constructed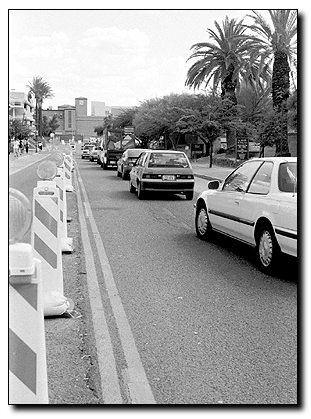 Casey Dexter
Arizona Daily Wildcat
A line of cars back up on North Mountain Avenue north of the Memorial Student Union. Traffic like this has been common since the start of construction earlier this month.
The UA's Parking and Transportation Services this semester leased two satellite parking lots off North Mountain Avenue to alleviate parking congestion until new garages are constructed.
"The goal of the Mountain Avenue express (satellite lots)...is to provide low cost parking...and lessen traffic on campus," said Charles Franz, program coordinator for alternative parking.
The two lots were leased from local churches, north of campus. Together, the new lots - Desert View Church of God, at East Prince Road and North Vine Avenue, and Mountain Avenue Church of Christ, at North Mountain Avenue and East Adelaide Drive - created 147 new spots.
Shuttles run between the two lots and the Second Street Garage every 15 minutes, from 7:30 a.m. to 6:30 p.m.
Permits for the satellite lots run $40 for each academic year.
The lots were leased to ease parking problems until new garages can be built, said Marlis Davis, director of Parking and Transportation Services.
Construction for two new garages at the North Tyndall Avenue-East Fourth Street intersection and East Sixth Street between North Fremont and North Santa Rita avenues, is slated to begin this academic year.
Groundbreaking for the Tyndall garage is set for November, while construction for the Sixth Street garage is scheduled to begin January.
"We look at the lack of spaces...and the only thing we can do, is build more parking garages," Davis said. "(But) we're sort of confined. We can't just go out and create new lots. There's no space on campus."
One student said he thought the satellite lots and future parking garages are a "step in the right direction," but more needs to be done.
"Parking here sucks," said David Trotter, a religious studies freshman. "If they need to make them (satellite lots) way out there though... it's better than nothing."
Despite student complaints about lack of parking, Davis maintains that all permit holders are guaranteed a spot.
"If you have a parking permit, you have a spot," she said. "It might not be in a Zone One in the center of campus, but there is a space."
Davis said students without permits should not drive to campus.
"If you don't have a permit don't bother bringing a car to campus unless you want to park in a visitor lot," she said.
She added that few tickets have been issued to non-permit holders who park in permit only spots.
"They're not just out there zapping people," Davis said.
She said the parking situation at the beginning of the semester "is always tough."
Parking and Transportation Services also subsidizes Sun Tran bus passes to lessen traffic and parking problems on campus.
Anyone associated with the university can purchase passes from Parking and Transportation Services that pays for 50 to 60 percent of bus tolls.
About 5,000 students, faculty and staff purchased bus passes last year, costing Parking and Transportation Services about $650,000.