Exhibit is more than just lip service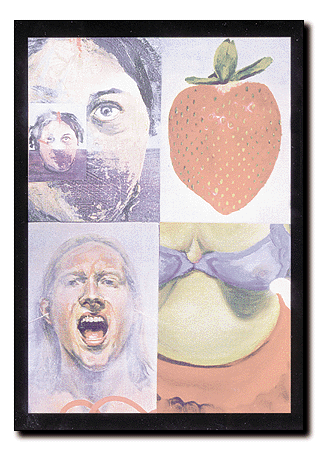 Wildcat File Photo
Arizona Daily Wildcat
A template of a person's mouth is best made by a nicely chewed up, slobbery hunk of gum. Fine art in the Lionel Rombach Gallery teaches this lesson. The gallery invites guests to study a colorfully grotesque grid of arranged gum globs, in a piece titled "Gum." What's more, the viewer is encouraged to produce his own mouth's template by a work of art that bears striking resemblance to a bowl full of gum and is called "Please take one, or two."
In this exhibit, called "Visceral Embodiments," artists Tara Jyawook and Temre Stanchfield concentrate their artistic efforts on the production of mouths, drooling berries and other forms of spume.
The pieces which stand out the most explore the female identity in terms of physical experiences, psychological reactions, and female construction. The female body is just one giant hole of sorts, that can be represented G-ratedly by the mouth and its functions. Together, Jyawook-in her delicious map of gum and her collage paintings, and Stanchfield- with her boldly colored self portraiture, transform the Rombach into one giant, bleeding receptacle. But perhaps I am ascribing statements to pieces that are just personal ponderings on sexual identity.
Jyawook's three identical pieces titled "Copy," "Original," and "Original Copy" ponder the psychology of deflowering in all of its nullifying details. In this display, flowers dangle from a mirror that reflects no image, a berry bleeds, everything falls in the direction of a severed head that's missing most of its face as it sits on a table like a cold fish. Most importantly, one must not ignore the killer whale phallically driving its head towards the hole in the face.
Once this stage in a female life is firmly set, it is time to explore what it's like to be a woman whose body is designed as a fleshy, attractive invitation surrounding one ultimate shape-a hole. Stanchfield seems to think it's a lot like being a bunny. A bunny, perhaps, in the literal sense and the metaphorical sense. Real bunnies are fornication machines. Metaphorical bunnies are Playboy centerfolds. Stanchfield's "Bunny" is a girl who wears pink lingerie, while sitting atop a fruit table cloth like a dish, with carrots strung around her, and did I mention-she has two open mouths. She's just waiting for one of those carrots.
This "Bunny" would fit right in with an imagined throng of nymphets. She dresses invitingly, presents herself as a feminine platter in the presence of all those handsome carrots, and her entrances are wide open and waiting for just the right one to come along as a filler.
In order to maintain a body like a sleek invitation, a strict diet plan must be affected. Jyawook illustrates this in her piece called "Pulse," which seems to be all about food, guilt and vomit. Vomit, as in the binge-and-purge eating disorder bulimia. Jyawook presents the viewer with a number of images, juxtaposing plain bagels and Diet Pepsi over a vaguely traced food pyramid and a toilet bowl shaped swirl which is drowning innocent little ducks. In this piece, a pulse, as a sign of vitality, is being sucked down the tube. So no more unhealthy dieting, girls!
It seems that this dual exploration focuses on the idea that female identity is inextricably linked to body image and sexuality. Woman becomes a mere visceral object, lacking personality and substance. In other words, a mere hole to be filled.
"Visceral Embodiments" is featured daily at Lionel Rombach Gallery until September 16. Call 626-4215 for prices and hours of operation.