'A Nightmare'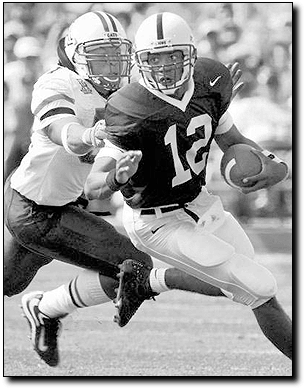 Associated Press
Arizona Daily Wildcat
Penn State quarterback Rashard Casey (12) scrambles for third quarter yardage past Arizona's DaShon Polk Saturday in the Pigskin Classic.
STATE COLLEGE, Penn. - It wasn't pretty.
In fact, what the No. 3-ranked Penn State Nittany Lions did to the No. 4 Arizona Wildcats on Saturday in the Pigskin Classic in State College, Penn., was downright hideous.
"We just got our butts kicked," UA head coach Dick Tomey said. "They beat us as bad as a team can get beat. It was one of those games, it was a nightmare."
Penn State demolished Arizona 41-7 before 97,168 people in Beaver Stadium and millions more on national television.
Arizona (0-1) was outplayed on both defense and offense, surrendering 504 total yards to the Lions (1-0) while only managing a single, meaningless touchdown late in the fourth quarter.
"I'm not going to denounce my team in any way," UA junior quarterback Ortege Jenkins said. "We got a serious reality check and the reality of this game is that they beat us."
Arizona's defense couldn't seem to get a grip on any of the Lions' players, a scene eerily reminiscent of last year's 52-28 loss to UCLA.
"It was just a sad case of not being able to tackle," UA senior free safety Rafell Jones said. "They had some nice ideas on offense, but to tell you the truth we just couldn't stop them."
PSU wide receiver Chafie Fields burned Arizona all by himself, rushing for 110 yards on only three carries while also catching three passes for 76 yards and a touchdown running and passing.
"Yeah, we were expecting them to try some weird stuff," UA junior defensive end Mike Robertson said of the Lions' offense. "Our eyes just weren't right. We were looking the wrong way on those reverses (that Fields ran)."
Things were bad from the coin flip onward. Arizona won the toss but deferred, and the Nittany Lions proceeded to take the ball 80 yards in seven plays to go up 7-0 on quarterback Kevin Thompson's 37-yard pass to Fields.
On the Lions' next possession, Fields took the ball 77 yards on a reverse that was nearly identical to a reverse he had gained 20 yards on in the previous drive. Fields' second score put PSU up 14-0, and they didn't look back from there.
"We went up 14-0 (and) they were huffing and puffing," PSU fullback Mike Cerimele said. "You could see it in their eyes. All we needed to do was throw the knockout punch."
And while Arizona was able to stop the Lions' next drive - largely thanks to a fumble by PSU quarterback Rashard Casey - the Wildcats couldn't score against the Lions' suffocating defense.
"(Their defense) did a lot of talking coming into this game. Give them credit, they did what they said they were going to," UA senior running back Trung Canidate said. "They didn't do anything that we hadn't seen on film. We just couldn't stop them."
After a field goal made it 17-0, the death knell for Arizona came when PSU quarterback Kevin Thompson nailed tailback Larry Johnson for a 60-yard scoring strike to go up 24-0. The score was 31-0 at halftime, at which point nothing about the outcome, except the final score, was in question.
"It's hard for a team to be up by 31 points and come out with the same level of intensity," Tomey said. "We competed much better in the second half (but) we still weren't a very good football team."
All the Wildcats could eventually muster was a 1-yard touchdown run by redshirt freshman Leo Mills with 0:47 left in the fourth quarter.
Tomey said the Wildcats suffered in all aspects when compared to the Lions.
"I hope we can learn a lot from this," he said. "We were very, very poor in the kicking game. We were a poor tackling team. They out-hit us, they were tougher, more physical. Everything that is good in football and you want to be, they were better at and when that happens, you have a result like today."
Tomey said all the Wildcats can do now is hope they have learned a lesson.
"If this ass-kicking, pardon my French, is part of the development of our team in some small measure, then that's good," he said.
Arizona came close to being shut out for just the third time in the last 30 years before Mills' score.
"They're the best defensive team I've seen in that they took us out of our game," Jenkins said. "If we can't run the ball to give us balance, we can't win."
Arizona was out-rushed 262-124, with Mills' 54 yards leading the team.
"All in all, it was not a good day," Tomey said. "Hopefully we can take this as a sharp dose of reality and we can get some positives out of it and get better."
UA junior linebacker Antonio Pierce agreed.
"We just have to regroup and move on to our next game," he said. "We didn't play Wildcat football today. We have something to prove against TCU."
The Wildcats will lick their wounds in Tucson this week before facing Texas Christian in Dallas next Sunday at 4 p.m. Tucson time.