Workers pull frame off UA's Gallagher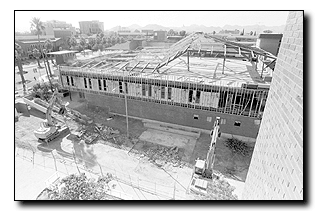 Joshua D. Trujillo
Arizona Daily Wildcat
Swinerton & Walberg employees use two track-hoes to pull down the steel structure that formerly was the Cactus Lounge on the third floor of the Memorial Student Union. The collapse of the steel structure startled unaware people in the Administration building next door.
Two bulldozers ripped down the steel frame of the Memorial Student Union's east wing yesterday, shaking the UA campus with the first major step in the building's demolition.
Students studying and lounging on the University of Arizona Mall watched as the two large bulldozers pulled down the steel roof structure that once protected the Cactus Lounge.
The force shook the Administration building as the resulting crash echoed throughout the Mall area.
Although it lasted for just five seconds, the largest portion of the student union demolition thus far took many students by surprise.
"It was a loud crash, and a large part of the roof fell down," said Lyndsay Edwards, a psychology freshman. "Everyone stopped and looked."
Darren Timmons, a chemistry post-doctorate student who was busy studying when the roof came down, said the crash did not interrupt his time of peaceful contemplation.
"It was a surprise, but it all went well," he said. "There was just enough noise to make me look up from my book."
Despite the loud noise, some students had no idea that anything happened.
"I did not even notice it," said Amber Prybylek, an anthropology freshman. "There was a piece that fell off the front, but nothing major."
Chris Kraft, construction project manager from UA Facilities Design and Construction, said the demolition went smoothly.
Kraft said weeks of planning was realized in the few seconds when the roof was pulled down. In order to safely and efficiently remove the roof, architects were needed to prepare the area and the steel structure.
"First of all they (Swinerton & Walberg) have been working on this for a while," he said. " They put notches in the base of the columns underneath the steel roof structure.
"If they didn't, they would have yanked down (more) of the union than they wanted."
Kraft also pointed out that the steel beams will be recycled, as will the majority of materials destroyed at the hands of demolition.
"They (steel beams) will be melted down and made into cars or something," Kraft quipped. "Most everything in there is being recycled."
In the coming weeks, Kraft said that the union will continue to see major changes. The next step is to remove the debris from the roof.
"Once that is finished, we will start working on the second floor," he said. "Then, after that is completed, we will take down the exterior walls."
Kraft said that future the demolition will involve both a track-hoe and a wrecking ball.