Solar 'Pop' Culture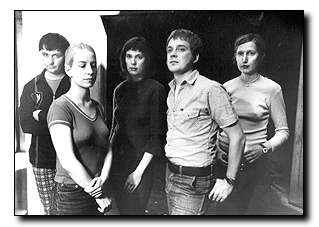 Wildcat File Photo
Arizona Daily Wildcat
Stereolab performs Thursday at 8 p.m. at the Rialto Theatre, 318 E. Congress St. Band members from left to right are: Tim Gane, Morgane Lhote, Laetitia Sadier, Simon Johns and Mary Hansen. The band is on tour to promote their new album, Cobra and Phases Group Play Voltage in the Milky Night.
The second show in the new Solar Culture lineup promises to document two of the most unique and genre-hopping bands of the 1990s - Stereolab and the Olivia Tremor Control.
It's a big deal when a band like Stereolab opts to play Tucson instead of the more-popular Phoenix area. Hailing from England, Stereolab have seven albums to their credit, with numerous other EPs and compilation projects.
Many bands are now doing what Stereolab did first - combining elements of lounge music, bossanova, French pop, electronica and jazz to create a totally new sound that has the ability to draw from kitschy sources and not sound at all like them. Cobra and Phases Group Play Voltage in the Milky Night is their latest release on Elecktra. It's not their best album - that would be Emperor Tomato Ketchup from 1996, which brought the name Stereolab to the musical repertoire of most Americans.
The Olivia Tremor Control is part of the infamous Elephant Six Recording Company collective, a group from Athens, Georgia that includes the bands Neutral Milk Hotel and the Apples (in stereo).
The last time Olivia Tremor Control played Tucson, it was in the Cellar in the Memorial Student Union, and perhaps three people showed up. They're hoping for a better showing this time around, and that's something they well deserve.
Olivia Tremor Control also brings together a variety of sounds into their music, but they draw mostly from pop influences, such as the Beatles in their psychedelic era. Their debut album, Music from the Unrealized Film Script, 'Dusk at Cubist Castle' is wonderfully catchy and 1999's Black Foliage: Animation Music follows along their more experimental track - when the Olivia Tremor Control performs, they take up most of the stage with interesting instruments.
Both bands are playing the Rialto Theatre, 318 E. Congress St. at 8 p.m. tomorrow. Tickets are $10.