ASUA considers eliminating primary election process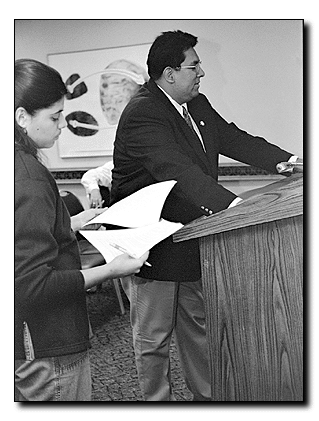 Eric M. Jukelevics
Arizona Daily Wildcat
Former elections commissioner Anthony Hill (right) expresses his concern to the ASUA Senate about eliminating the primary elections, as current election commissioner Gloria Montay█o listens on. The Senate tabled the amendment until next Tuesday's meeting for further review.
Before the ASUA Senate had a chance to vote to drastically change the student government elections process, a former ASUA elections commissioner brought forth some legal and organizational issues that forced senators to re-evaluate the situation.
Gloria Montay█o, current Associated Students of the University of Arizona elections commissioner, proposed a change that would have potentially eliminated the primary elections if there was a low candidate turnout.
Montay█o's proposal would have applied to a primary election that had two or fewer candidates.
Montay█o said the main reason for the elimination was financial matters.
"I was in favor of eliminating the primary election if there was a low candidate turnout because it costs about $5,000 dollars to hold the election," she said. "That is money that could be spent better elsewhere."
Immediately following Montay█o's address to the senate, former Elections Commissioner Anthony Hill said there were serious legal issues with the proposed change.
"I urge the Senate to reject the amendments that eliminate a need for a primary," he said. "Eliminating the primary is a very serious thing. If this happens, it opens up serious legal matters for the Senate and ASUA."
Hill said if a losing candidate decided to fight the results of an election without a primary process, the ASUA Supreme Court would be forced to side with the candidate.
"Without the primary, the elections committee would not win a case if it went to (ASUA Senate)," he said.
Hill said it is against state law to hold an election without a primary.
UAPD Cmdr. Brian Seastone, who is also an ASUA ex officio senator, agreed with Hill's argument, saying any revisions made to the election process must conform to state law.
"You can become more restrictive than state law, but you cannot be less restrictive than state law," he said.
Montay█o said she was unaware of the situation and will re-evaluate her proposal.
"If it is a legal issue, then there is nothing that can be done," she said. "I don't know (Arizona Revised Statutes), and I will research the issue further."
Senator Michael Dobbs agreed with Seastone, and pointed out a recent example where the change would apply.
"A few years ago, Rhonda Wilson came in second in the primary and went on to win the general election. Without the primary, she may not have ever won," he said.
Other senators disagreed with Dobbs' statement.
Ryan Roa said he is confident that a candidate will win regardless of the potential plurality situation.
"I have a problem with the idea that there will be two strong candidates but the third will attain the required votes and win," he said. "I think that reasoning is flawed."
Senator Julie Burkhart said she supports the attempts to make changes for the purpose of improving ASUA leadership, and that the election change may help the students.
"I'm always in favor of change," she said. "If we do this for one year, it won't hurt very much."
Hill later said eliminating the primary for one year would lead to problems. He said if a candidate decided to fight the election results, it would force ASUA to repeat the elections.
"I heard somebody say that we should throw away the primary for one year and see how it works," he said. "Do you want to throw out an entire election and try again? I don't think so."
Hill also said the proposal to eliminate the primary election called for immediate attention of the elections commissioner.
"If somebody said that the elections commission has too much power, I would agree," he said "Having one person eliminate the entire primary gives credence to it."
Hill said eliminating a posted election date would show a lack of consistency and organization on the part of ASUA.
"When you set a primary date, you are bound to that date by the law," he said. "Even if nobody runs, there still needs to be a primary election."
Seastone agreed.
"If you are going to make a deadline, then make a deadline," he said. "If a deadline is posted, it shouldn't be changed."
Ben Graff, ASUA executive vice president, said that more time was needed before the Senate should vote.
"The Senate was very wise to table it (election change item) and use the next five days to research it," he said.