UA prof says past 'shackles' are still present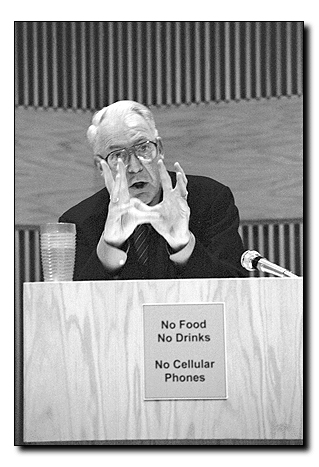 Wildcat File Photo
Arizona Daily Wildcat
Each generation is attempting to escape from the creations of those who have come before, but any progress made is redundant, a UA professor and internationally known historian said yesterday.
Heiko Oberman, a Regents professor of history, expressed the idea that every step one generation takes is a repetition of what others have done before.
"The ideas that liberate one generation are shackles on the next," he said.
As part of the University of Arizona Speaker Series, Oberman spoke on the "Creative Tremors of the Millennium."
Oberman is the author of many books on the Reformation and religious figures it produced, including a biography on Martin Luther and a book titled "Masters of the Reformation," which was honored in Germany and named one of the best books of the decade.
"They must realize that every breakthrough becomes a limitation for the next generation," Oberman said.
He said a historian must be bilingual in the sense that they have to speak the language of the past and the present in order to obtain an accurate perception of the beliefs of the time and how they prompted the events of history.
Aside from speaking about the movements of history, Oberman discussed how the future could alter our perception of superstition.
"A new vision of causation is helping fight superstition," he said.
People are realizing that all natural phenomenon must have natural causes, thus a supernatural world of ghosts and witches can't exist, he said.
"If a person says they have spells, they are mentally ill."
Oberman also explored the formation of religious Millennium sects.
"These sects wish to hasten the arrival of the Messiah. By the time that Jesus died, the Jews had already waited three times longer for theirs than Christians have waited to date. They are very impatient," he said.
He also stressed that people need to be "liberated from the arrogant assumption that we have made progress."
"Wise people forget centuries, they remember episodes," he said.
Oberman was educated at Oxford and Harvard and then wrote about the Protestant Reformation while living in Germany before coming to the University of Arizona in 1984.
"He is the model of the classic scholar. I would be willing to take his class even though I'm a professor," said Richard Poss, associate professor of humanities.