Olson reaches 800th game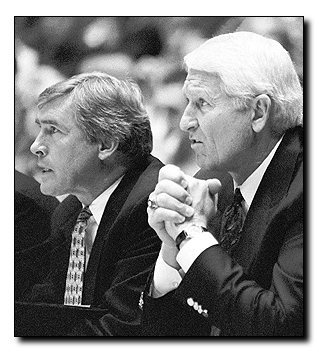 Wildcat File Photo
Arizona Daily Wildcat
UA head coach Lute Olson (right) sits and looks on at the action with associate head coach Jim Rosborough during a game at McKale Center. Tuesday night's game marked the 800th that Olson has coached in during his 27 years as a Division I head coach, with 17 of those years at UA.
Arizona was victorious Tuesday night in Lute Olson's 800th career game as a head coach, but more milestones are on the near horizon.
Olson, now in his 17th year at Arizona and his 26th year overall as a head coach, needs only 12 more wins before he reaches win No. 600 of his career.
With five wins, he will reach 400 for his career at Arizona, and if that's not all, eight wins will make him the most successful coach in Arizona history.
"I should have retired a long time ago," he said following Tuesday's game. "That's 800 games in Division I, I had 17 years in before I started that. I'd hate to count all the games if I would have been in Division I a little earlier."
"That's a lot of games, a lot of butterflies, not the greatest of sleeping situations," Olson said. "But, it's nice to have survived this long with it. Hopefully we can get some wins this year."
Sophomore forward Richard Jefferson played only 22 minutes against Kansas State, but every time he was in the game Tuesday, he ignited the crowd and his teammates.
With just under six minutes left in the first half, Kansas State chipped Arizona's lead down to 31-26. That's when Jefferson came back in and sparked Arizona on a 24-2 run to close the half and put away Kansas State.
"I'm not someone who looks to score, I just try to get my points through the team, and any time we get fast-break opportunities, that's when I'm playing at my best," he said.
The spectacular alley-oops and follow-ups by Jefferson brought a sleepy McKale Center crowd to its feet, especially the follow-up to Gardner's missed lay-up, where he was fouled.
During the run to end the half, however, Arizona forced a few passes they didn't need to and turned the ball over.
"I don't think we got careless, I just think that's getting to know each other," Jefferson said.
Olson faces an old friend and rival on Friday night in the second round of the Preseason National Invitational Tournament.
Olson had many battles with current New Mexico State head coach Lou Henson when Olson was at Iowa (1974-75 to 1982-83) and Henson was with Illinois (1975-76 to 1995-96).
Since the two moved west, they have found plenty of success. While Olson's eight Pacific-10 championships, three Final Fours and a national championship may speak loudly, Henson, nicknamed "The Muppet," is building a solid program in Las Cruces.
The Aggies won the Big West Conference a year ago and played in the NCAA tournament, where they lost to Kentucky in the first round.
They finished 23-10 last year and their .706 winning percentage this decade is the 17th-best in the country.
"It has (been a good rivalry)," Olson said. "It's going to be good to see Lou. We had a lot of battles in the Big Ten. He's done a good job resurrecting the program at New Mexico State."