On the line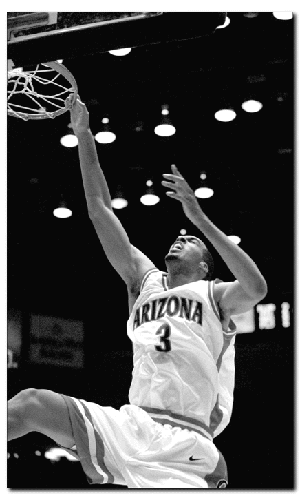 Nicholas Valenzuela
Arizona Daily Wildcat
Junior center Loren Woods puts the finishing touches on a dunk in a game earlier in the season. Woods and the Wildcats will take on the very physical New Mexico State Aggies tonight in the second round of the Preseason NIT.
A trip to New York City is on the line tonight as Arizona hosts New Mexico State in the second round of the Preseason National Invitation Tournament.
Tip-off is at 9:30 at McKale Center, with the winner spending the Thanksgiving holiday in the Big Apple for the Preseason NIT final four.
The two former Border Conference teams have a storied history, dating back to the 1916-17 season. The Wildcats and Aggies have met 93 times before, but forgive members of the current teams for not understanding the rivalry - the last time the two schools faced each other was in 1971.
"We don't know a lot about New Mexico State at this point, but the coaches are going to tell us about them and we'll get ready," sophomore forward Richard Jefferson said after Tuesday night's win over Kansas State.
While Arizona cruised to an 88-69 win over Kansas State in the first round, New Mexico State labored to a 69-55 win over Hofstra and are expecting a much more physical game tonight.
"We know it's going to be a tough game," NMSU head coach Lou Henson said. "We have, basically, a veteran ball-club and I think if we play well, it will be a good ball-game."
The Aggies return four starters from the 1998-99 team that reached the NCAA Tournament and are spearheaded by their three-man backcourt, which features senior Billy Keys, sophomore Eric Channing and senior Brad Bestor.
Channing scored a career-high 26 points and shot 8-for-11 from behind the three-point arc Tuesday night against Hofstra.
NMSU had trouble inside against the Flying Dutchmen, however, as Hoftsra had 14 blocks, 10 by center Greg Springfield alone.
The UA frontcourt, led by junior center Loren Woods and sophomore forward Michael Wright, must be licking their chops.
"Guys weren't as focused (against Kansas State)," Woods said. "I think now that we're going to be playing tough competition, there's a lot of upsets, and we don't want to lose at home, we want to go to New York. We're going to be ready."
Henson said the Aggies will run if it is an up-tempo game, but would prefer not to get into a track meet with the Wildcats, even if his guards have more experience than Arizona's freshmen backcourt, consisting of Jason Gardner and Gilbert Arenas. More importantly, they'll need more balance in their scoring.
One thing Henson doesn't want is for Arizona to get on a roll.
"When they're rolling, they're awesome," Henson said. "They're very talented and the young players don't play like they're too young."