A quiet giant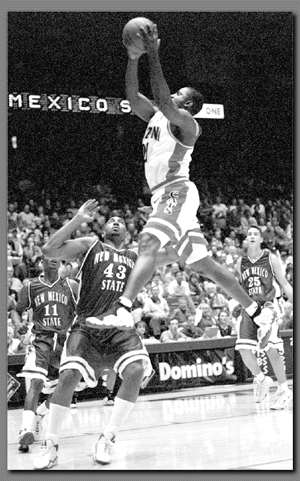 Ian C. Mayer
Arizona Daily Wildcat
Sophomore forward Michael Wright goes up for the dunk in last Friday's game against New Mexico State. Wright scored a career-high 24 points and pulled down 13 rebounds to help Arizona earn a trip to New York City and the Preseason NIT semifinals tomorrow against Notre Dame.
Perhaps UA head coach Lute Olson said it best after the Wildcats 84-60 win over New Mexico State on Friday night.
"Thank goodness for Michael Wright in the first half," he said.
Wright dominated the half against the Aggies, shooting 6-of-9 from the field for 15 points and pulling down seven rebounds.
"We rode Michael Wright because he was feeling it," said sophomore swing forward Richard Jefferson. "A good team does that, they ride the players that are feeling it and they pass the ball looking for an open shot."
Just how much was Wright feeling it? He even connected on his first three-pointer of his short collegiate career. Instead of hitting junior center Loren Woods with a high pass in the paint, Wright's dish banked off the glass and went through the hoop, bringing a smile to his face and even a grin to Olson's.
"It was my first three in college, last year I was 0-for-2," Wright said. "I only hit three or four in my high school career. I was kind of shocked because I was supposed to throw it into Loren."
A sophomore power forward from Chicago, Wright attended Farragut Academy, the same high school as current Minnesota Timberwolves forward Kevin Garnett.
Perhaps he learned it from Garnett, because if it is one thing that Wright does, it is dominate the inside game for the Wildcats, but he does it with a quiet style and swagger.
"He just lets his play do the talking," associate head coach Jim Rosborough said. "You should never portray any emotion on the court, just play the game and that is how he plays. I first heard that in the '60s. He is going to play the game as a tough hard-nosed warrior. He enjoys himself, but he just plays the game."
Wright broke on to the college basketball season early last season, scoring 13 points and battling for six rebounds in the Wildcats' opening 73-72 win at The Pit in New Mexico over Tennessee. From that point on, Wright dominated the post for UA, averaging close to a double-double (13.9 ppg, 8.8 rpg) all season long.
Over the summer, he played on the under-19 USA World Junior Championships team, scoring 27 points in the semifinal game against Brazil and garnering a team-high 10 rebounds in the gold medal game against Argentina.
Despite all this, it wasn't until Friday night, where Wright had perhaps his best game in a Wildcat uniform, scoring a career high 24 points and hauling in 13 rebounds. He also hit 7-of-9 from the free throw line to go along with his lone three-pointer.
"When the team is struggling someone has to step up and today I did," Wright said after the NMSU game. "Whatever it takes for the team to win, if it for me to shoot 40 shots or to shoot none and score no points and get no rebounds, as long as my team wins, it's all good."
For his play a year ago, Wright earned the high honor of being the Pacific 10 Conference Freshman of the Year, becoming the third UA player to garner the award. Sean Elliott won it in 1985-86 and Mike Bibby took home the brass in 1996-97.
"He is the hardest worker I've seen since I have been coaching (since 1974)," Rosborough said. "We have had really hard-workers, Damon Staudamire was a hard-worker, but he is Staudamire times 10. He is always shooting with Josh (Pastner), practicing ball handling at night with gloves on. These are the things that people don't see. Everything about him is conscientious and a good effort. There is no question everything is at full speed. He has a tunnel vision in his goals with basketball that has also transferred over to his academics."
After being named an All-State performer in Illinois his senior year of high school, averaging 29.5 points per game and 16 rebounds per game, Wright came to UA a quiet soldier, just looking to play some hoops. But, Rosborough has certainly seen a difference in him from year one to the early parts of year two.
"He has a great sense of humor with his friends. He and Josh (Pastner) are really close," he said. "He has really opened up since he has been here. It is a prime example of how the university life has let a kid blossom."
That is, blossom both on the court and off.