Stanford earns Rose Bowl berth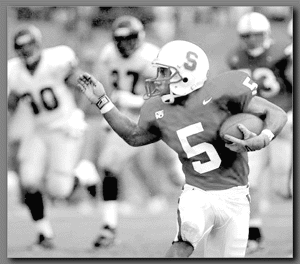 Associated Press
Arizona Daily Wildcat
Stanford's Troy Walters waves goodbye to the Cal defense during the Cardinal's 31-13 victory over the Golden Bears in the teams' meeting on Saturday. Stanford clinched its first Rose Bowl berth since 1972 with the win, leaving Washington to settle for the Holiday Bowl on Dec. 29.
Stanford, needing only a win against Cal to earn its first Rose Bowl berth since 1972, did just that on Saturday, holding the Golden Bears to just 130 yards in total offense in a 31-13 win.
With the win, Stanford has earned the right to face Big Ten champion Wisconsin in the Rose Bowl.
Stanford running back Casey Moore had two touchdown runs, including one of 94 yards in the fourth quarter in the 31-13 Stanford win.
Cal cornerback Deltha O'Neal accounted for all Golden Bear touchdowns. O'Neal ran back a kickoff 100 yards and returned a punt 58 yards, both for touchdowns.
Stanford hasn't won a non-conference game this season and will face Notre Dame on Saturday in a game that has no bowl implications for the Cardinal.
Washington pinned their Rose Bowl hopes on a Stanford loss after relinquishing their control of the Pac-10 race in an upset loss to UCLA two weeks ago. But Stanford won, and Washington will travel to the Holiday Bowl to play an opponent yet to be announced on Dec. 29.
The Huskies beat Washington State in the Apple Cup to finish second in the Pac-10. Washington freshman running back Paul Arnold helped hand the Cougars their fifth straight loss as he ran for 126 yards on 13 carries including an 80-yard touchdown in the fourth quarter to cement the victory.
Oregon clinched a trip to the Sun Bowl in El Paso, Tex., with a 25-14 win over the Oregon State Beavers. Oregon held OSU's Ken Simonton, to just 63 yards on 24 carries. The Ducks had no trouble with their game, though, as Reuben Droughns rushed for 197 yards and a touchdown.
The win was Oregon's 14th straight at home, tying the school-record streak dating back to the 1930s.
Despite the loss, OSU will spend their Christmas in Hawaii to face home-team Hawaii in the O'ahu Bowl.
The Aloha Bowl will accept the winner of the weekend game Arizona State-Arizona game.
ASU has a better conference record, but Arizona boasts a better overall record. This is the only bowl in question for the Pac-10, with all other conference slots determined after the weekend games.